World Energy Conservation Day
Posted By bbsbec3 on December 13, 2017
World Energy Conservation Day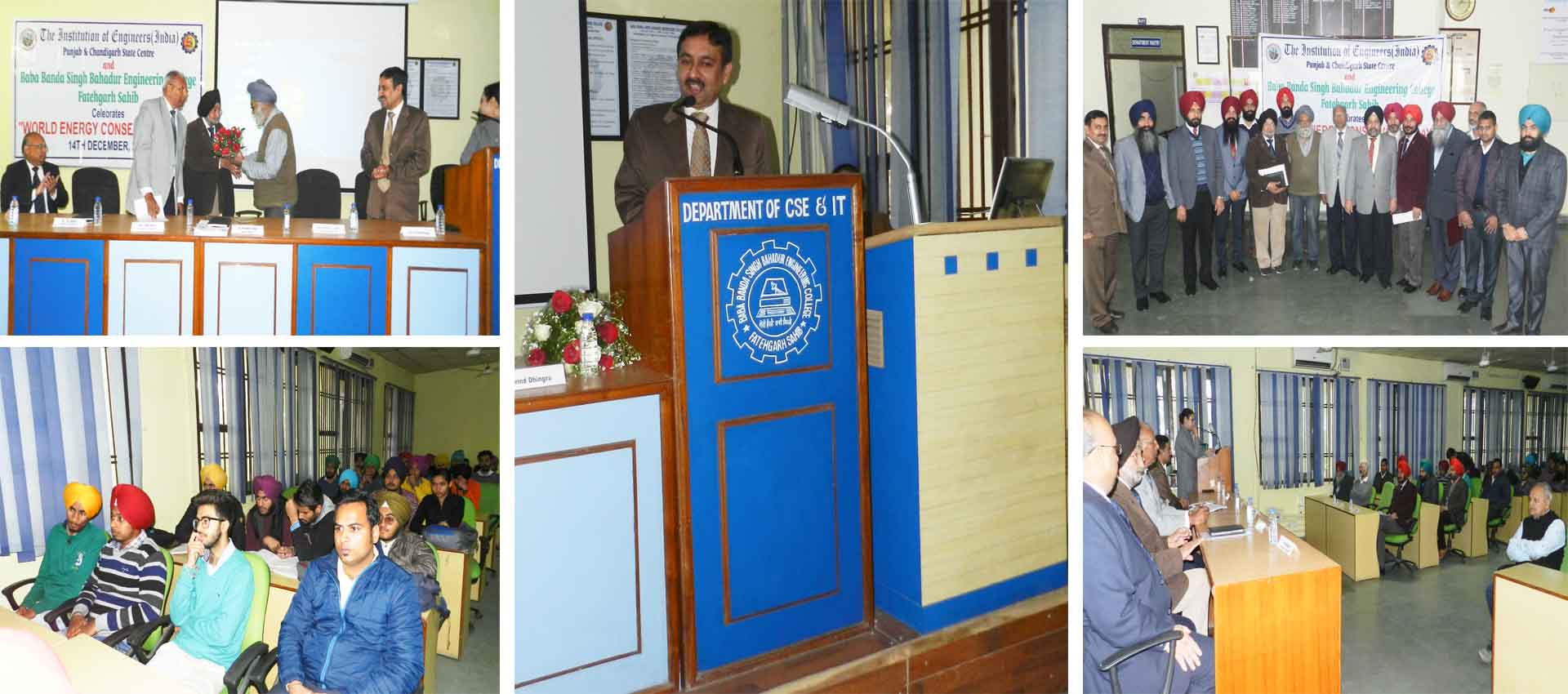 World Energy Conservation Day was celebrated on 14th December globally to highlight the importance of energy consumption and its use in our day-to-day life, its scarcity and its impact on sustainability of global eco systems. It focuses our concentration on significant issues facing the future of mankind with respect to energy. This Day serves to spell a sense of urgency on the issues involved.
In cognizance with the fact that Energy Conservation is a task of prime importance, World Energy Conservation Day was celebrated at BBSBEC, Fatehgarh sahib in collaboration with IE (I), Chandigarh. Dr T S Kamal welcomed the Chief Guest , Er. Padamjit Singh and other dignitaries. Dr. G S Lamba delivered the welcome address and highlighted the need for managing the available resources. He further laid stress on striking a balance between the demand and supply of energy. Er. J R Garg, Chairman Punjab and Chandigarh State centre (IE ) addressed the audience and extended a warm welcome to Er.Padamjit Singh.
Dr. Arvind Dhingra, Assistant Professor, GNDEC Ludhiana shared his expert opinion on energy management and working towards sustainable future. Er. R K Gupta ,Chief Engineer,PSPCL highlighted the efforts of PSPCL in the field of energy conservation. The students from Electrical dept presented a paper on the topic "Solar Energy- A transformation for future". Er. Padamjit Singh emphasized the use of renewable resources for power generation which do not emit carbon dioxide. The vote of thanks was delivered by Er.S.S.Mundi , Honorary Secretary IE(I) in which he congratulated the college in organizing such an event. He also appreciated the work done by the organizing committee headed by Dr Gursewak Singh Brar and Dr Baljit Singh Khehra.