Alumni Meet 2018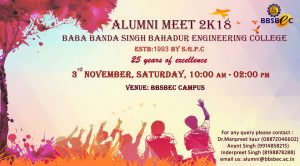 BBSBEC Annual Alumni Meet-2018 has been scheduled on 3rd November 2018 (Saturday). All Alumni are cordially invited to the event with their family.
Anticipating positive and enthusiastic response from you
Convey to your batchmates, seniors, and juniors.
Please open the following link to register yourself with us:
Thank you.
With best wishes to you and your family
God Bless