Message from Principal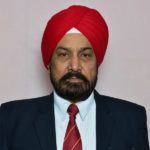 Greetings to all alumni of BBSB Engineering College.
It gives me great pleasure to greet all the alumni of BBSB Engineering College. The fame of any institution becomes stronger and stronger year after with the progressive contributions made by its students. The institution will stand the test of time and grows into eternity by its achievements in every sphere of the academics and the allied fields of knowledge inputs. BBSBEC has the vision that whoever comes to its portal should leave it with a midas touch-a secured value based academic achievement which is the hall mark of the institution. It stands for imparting righteous conduct and unwavering faith in the academic and social values. It is the altar on which the institution stands and its beneficiaries, the students who should promote further the values of the institution to far shores and to new horizons.
Many of our College Alumni are holding very high positions in a number of well known organizations, not only in our country but also abroad. I encourage all the alumni to remain in touch with the college activities, spare time to share your experiences, innovative ideas, to construct persuasive arguments for your point of view and to solve problems both theoretically and practically. The BBSBEC Alumni Association exists to help keep alumni in touch with their alma mater, with each other, and to foster support for the college. I request all of you to take part in the activities of alumni association whole heartedly.
I wish you every success, and look forward to meeting you in the near future.