Eicher Tractors Placement Drive: 14 students selected from Mechanical Engineering
Posted By bbsbec2 on April 10, 2018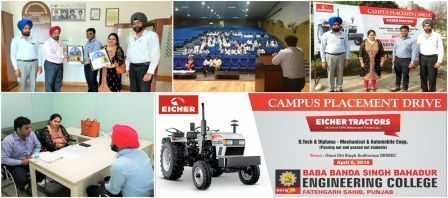 Baba Banda Singh Bahadur Engineering College, Fatehgarh Sahib is continuously putting its efforts to provide the best placement opportunities to its budding engineers by inviting the reputed companies for the campus placements. Latest to the series is the name of Eicher Tractors, one of the oldest names in the industry, a reputed brand in the agriculture vista. The students of B.Tech (Mechanical) & Diploma (Mechanical & Automobile) appeared for the recruitment process.
The company delegation headed by Ms. Ritu Mahajan, HR Manager and Mr Shivam Chawla, Industrial Relationship Officer interacted with students and briefed them about company and its operations in India and abroad. Ms Ritu Mahajan highly appreciated the college infrastructure, departmental labs and teaching learning facilities provided by the college to its budding engineers.  More than 100 students participated in this day long placement process comprising the students from BBSBEC (B.Tech (Mechanical)), Aryan College, St. Soldier Institute along with the diploma students from various other colleges like Baba Banda Singh Bahadur Polytechnic College, Doaba Polytechnic College, Govt Polytechnic College Khoonimajra, Adesh Polytechnic College, R&D Polytechnic College Ludhiana,  and Thapar Polytechnic College to this list. In the day long interview process finally 19 students got selected which include 9 students of B.Tech (Mechanical) from BBSBEC, 1 student from Aryan College, 1 student from St. Soldier Institute 5 from BBSBPC, 2 from Doaba Polytechnic, 1 from GPC Khoonimajra
On this occasion Dr. G. S. Lamba, Principal, BBSBEC said that college has emerged as a leader in placements and every year, the number of participating companies escalate giving students a wider range of opportunities to spring their career. The college Training & Placement head Dr. J S Oberoi also congratulated the selected students and   thanked the Eicher Tractors officials for providing the opportunity to the students.