Open Access Technology Pvt Ltd
Posted By bbsbec3 on July 30, 2018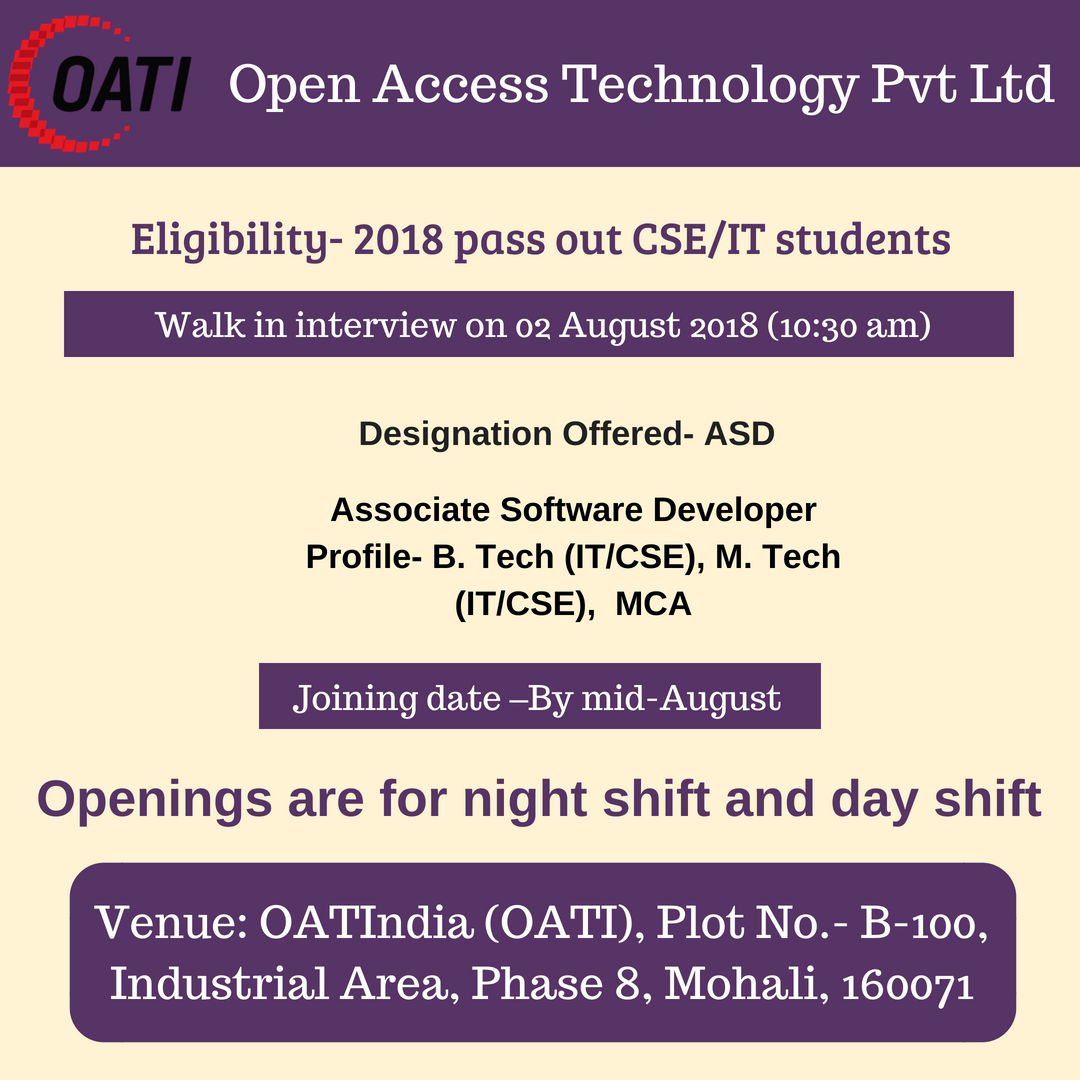 Name of the Company: Open Access Technology Pvt Ltd (www.oati.com)

About Company: The business of energy never stands still. Since 1995, more than 2,000 energy industry customers have turned to OATI to provide solutions to their operational challenges. More than 1,100 dedicated staff members — with more combined energy industry experience than any other software solutions provider and one of the industry's highest concentrations of PhDs — work with a single-minded focus to meet our customers' changing commercial and technical needs. OATI is constantly innovating to help their customers make trading, moving, and delivering energy nearly effortless and extremely rewarding. Each innovative solution has been built to give customers easy access to mission-critical information, be seamlessly integrated across the energy industry, and designed to help users get more done. This is how OATI is transforming the business of energy together with our customers.
Openings are for night shift and day shift

Designation Offered:     ASD

Stream required

Associate Software Developer profile– B. Tech (IT/CSE), M. Tech (IT/CSE), MCA

Joining date –By mid-August
Salary:
For selected candidates, annual CTC will be Rs 2.5 lacs to Rs 3.20 lacs.
Skills and competencies:
Good communication skills, in-depth knowledge of technical aspects, knowledge of the software development lifecycle, testing, debugging techniques, Java, JavaScript, HTML, C/C++, CSS, SQL &    Windows.
Recruitment Process

Written Test
Technical Interview
HR interview

Eligibility criteria

60 % in final degree
No backlogs

Location: Mohali
Selected candidates will be required to sign 18 months' service agreement with OATIndia.
Only the candidates who are available for immediate joining and who would like to serve OATIndia should apply.
JOB PURPOSE: Responsible for writing, coding and maintain individual programmes from specific requirements.
QUALIFICATION: M.Tech/ B.Tech /MCA
ROLES & RESPONSIBILITIES:
Understand the product development lifecycle. Adhere and acquainted with procedure and policies on the day to day activity.
Study best practices and coding conventions specific to the product and strictly follow the same
Understanding the requirement, developing the solutions, testing and reporting the issues on time to the concerned persons.
Identifying complex technical problems in a program and discussing them with Group Lead for an effective solution.
Creating new forms and displays as per the need of customers.
Maintenance of software codes/programs and modifications as per client requirement.
Making changes to the software to resolve issues in already existing displays.
Attending the team meetings and get the product knowledge and processes we follow.
Report day to day activities to leads and get the feedback from them as well.
Working as a Mentor of the new developers and guiding /helping them in their work.
Responsible for peer testing to be done for every problem in India office before setting it on test for US office.
Responsible for the following types of testing during the development and release cycle of products.

Peer testing
Unit Testing
Pre-release Testing
Release Testing

Team Building: Contributes to team effort by accomplishing related results as needed.
SKILLS AND COMPETENCIES:
Good communication skills, in-depth knowledge of technical aspects, Knowledge of software development
life cycle, Testing, debugging techniques, Java, JavaScript, HTML, C/C++, SQL & Windows.