T&P Activities and Placement record
The T&P Department plays a very important and key role in counseling and guiding the students of the college for their successful Career Placement, which is a crucial interface between the stages of completion of academic program of the students and their entry into avenues of suitable employment. The T&P cell works as intermediary between aspiring students and placement companies who hire the appropriate talent for their businesses. The T&P department stressed upon the skills assessment of pre final and final year students so as to work on the deficiencies of their skill set and provide them appropriate technical and non-technical workshops which can further enhance their employability skills. The current placement scenario as well as the recent placement activities suggests that the candidates lack towards the essential employability skills e.g. soft skills, business communication, aptitude skills, logical and verbal reasoning skills along with the industry expectations for their technical skills. The students must also be motivated and trained on the latest technical trends happening in the corporate world e.g. AWS, Machine Learning, Data Science and Artificial Intelligence etc. Group Discussions and Mock Interview sessions must be organized to promote skills of interaction and to apprise them about the typical questions asked during the technical and HR interviews. The company executives/ employers will be invited to share their valued expertise on various topics, workplace situations with our students, current trends and future scenario.
Campus Placement Programme (CPP): is being promoted for the students aspiring for appropriate placement in Private/Public Sector Undertakings, national/multi-national companies, Industries and Research/ Academic Institutes, Government Departments etc. For placement, we contact a large number of prospective employers throughout the academic year for the final year of B.Tech/MBA students. The reputed/ prestigious national and multinational companies of Tier-1 & Tier-2 are being preferred to visit BBSBEC for campus recruitment annually. Industrial/ Professional Tours:In order to understand the working of Corporate Sector, the T&P Cell plans and executes visits of pre-final/ final year students to different Industries/organisations located in different regions of India to get right exposure and opportunity for training. Effective Youth Entrepreneurship Education: This training prepares young people to be responsible, enterprising individuals who become entrepreneurs or entrepreneurial thinkers and contribute to economic development and sustainable communities. Promotion of self-employment is the need of the time. T&P Cell, thus, conducts programmes on Entrepreneurship Motivation, Project Identification and Planning, and Financing of Projects with faculty support. The output of such programme in terms of number of students starting their own units could be encouraging.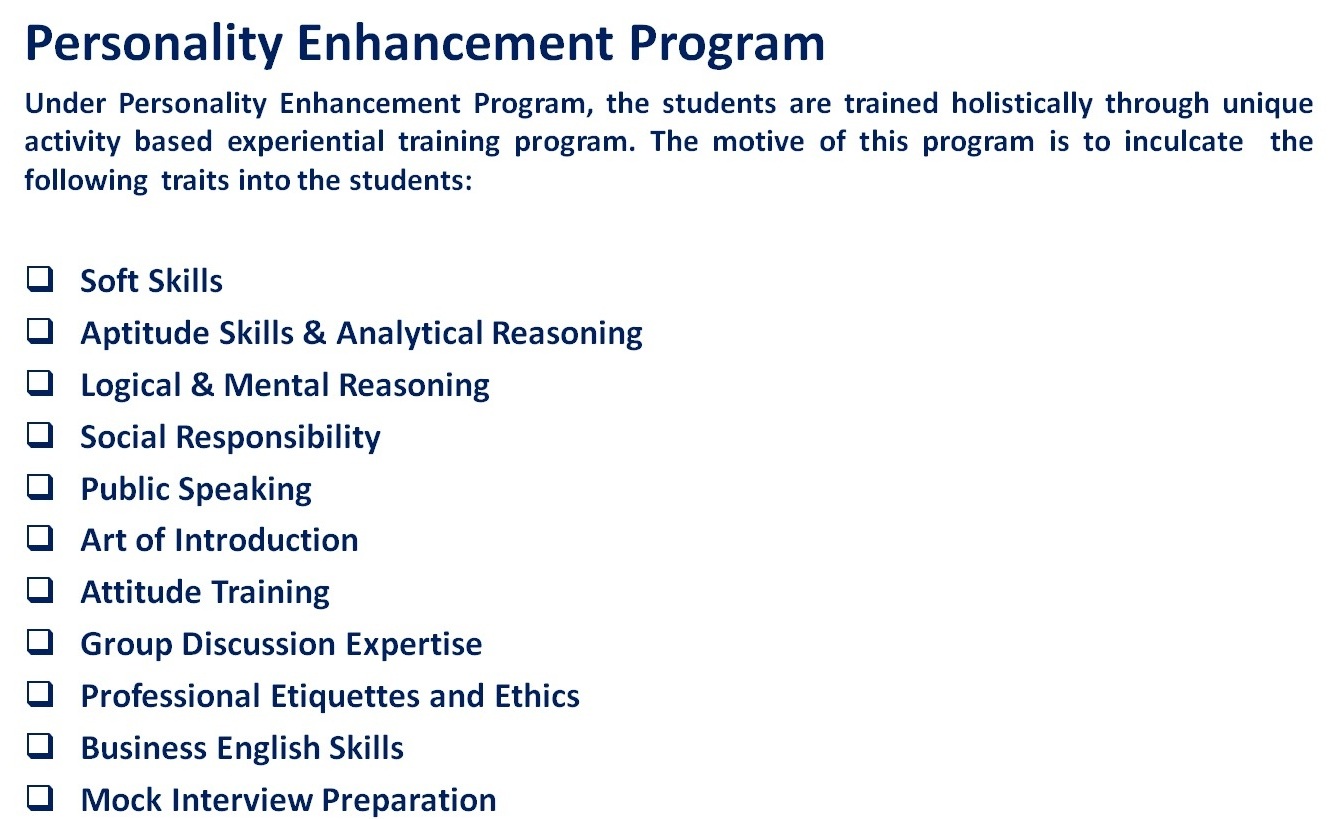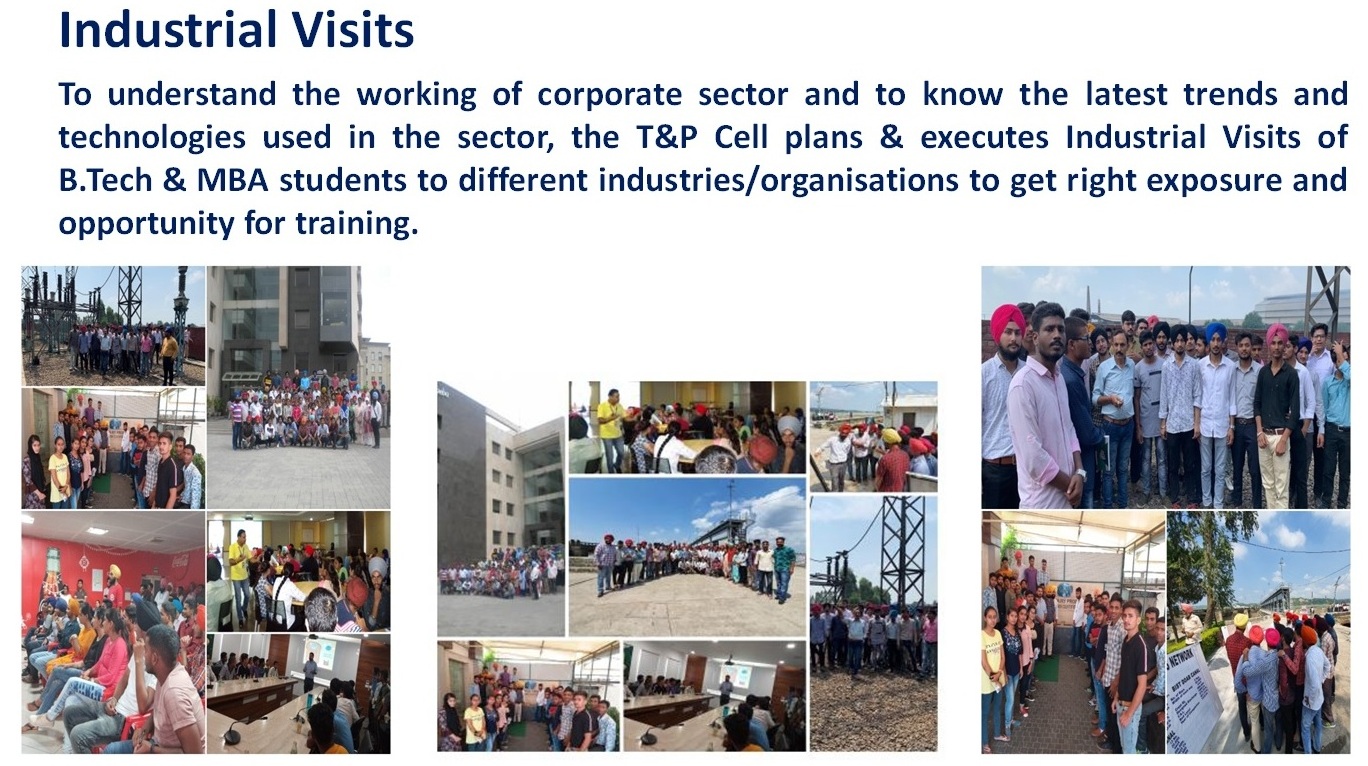 Motivational Session on Key Skills for achieving goals
With immense pleasure we would  like to apprise you that the motivational session on "Key Skills for achieving goals" has been conducted on 8th September 2022. A national repute speaker Mr. 

Sohan

 Singh Chandel has delivered the session. The session conducted on 08/09/2022 in college auditorium. It was great session wherein students have been enlightened on the role of attitude for achieving goals.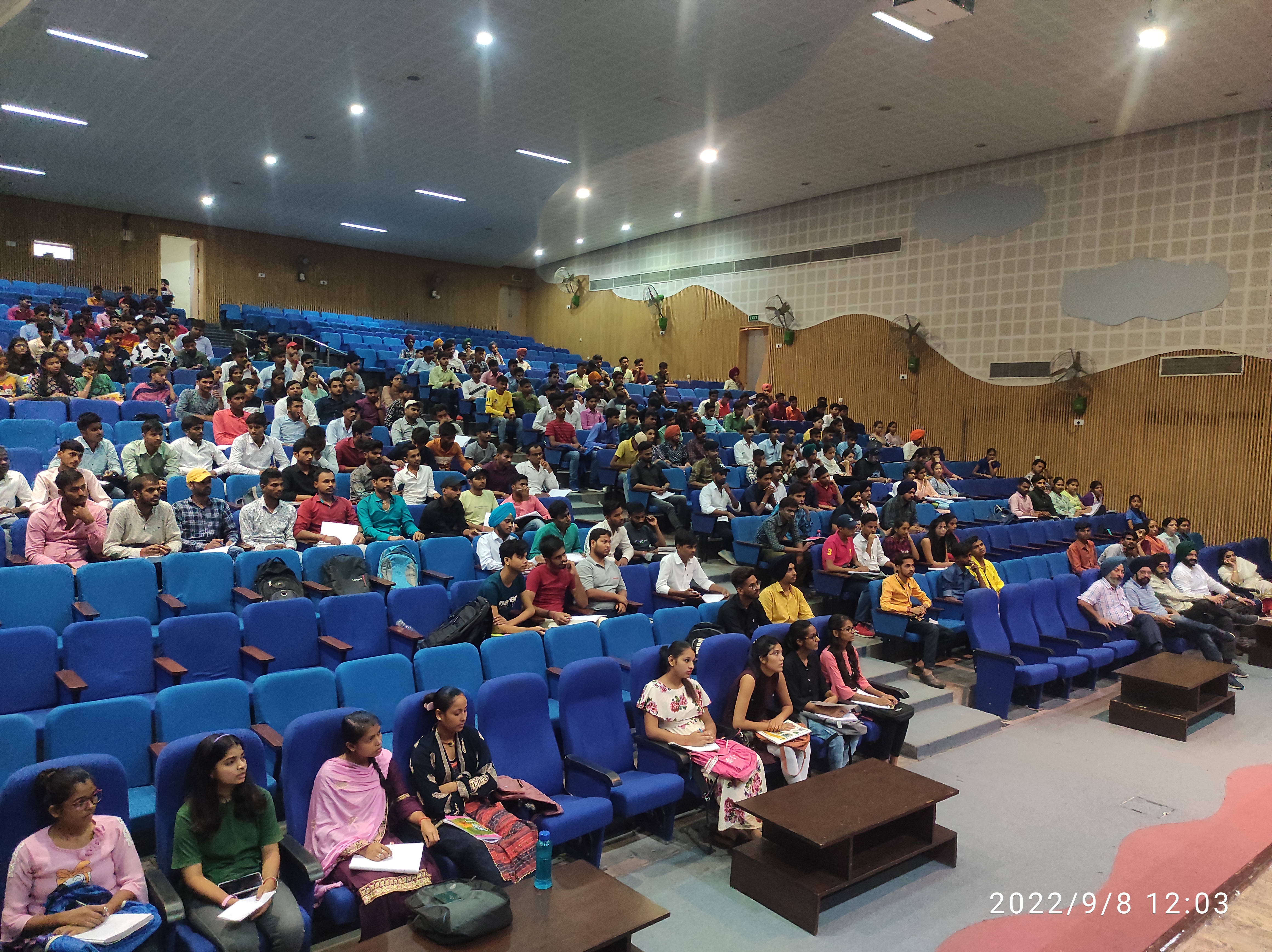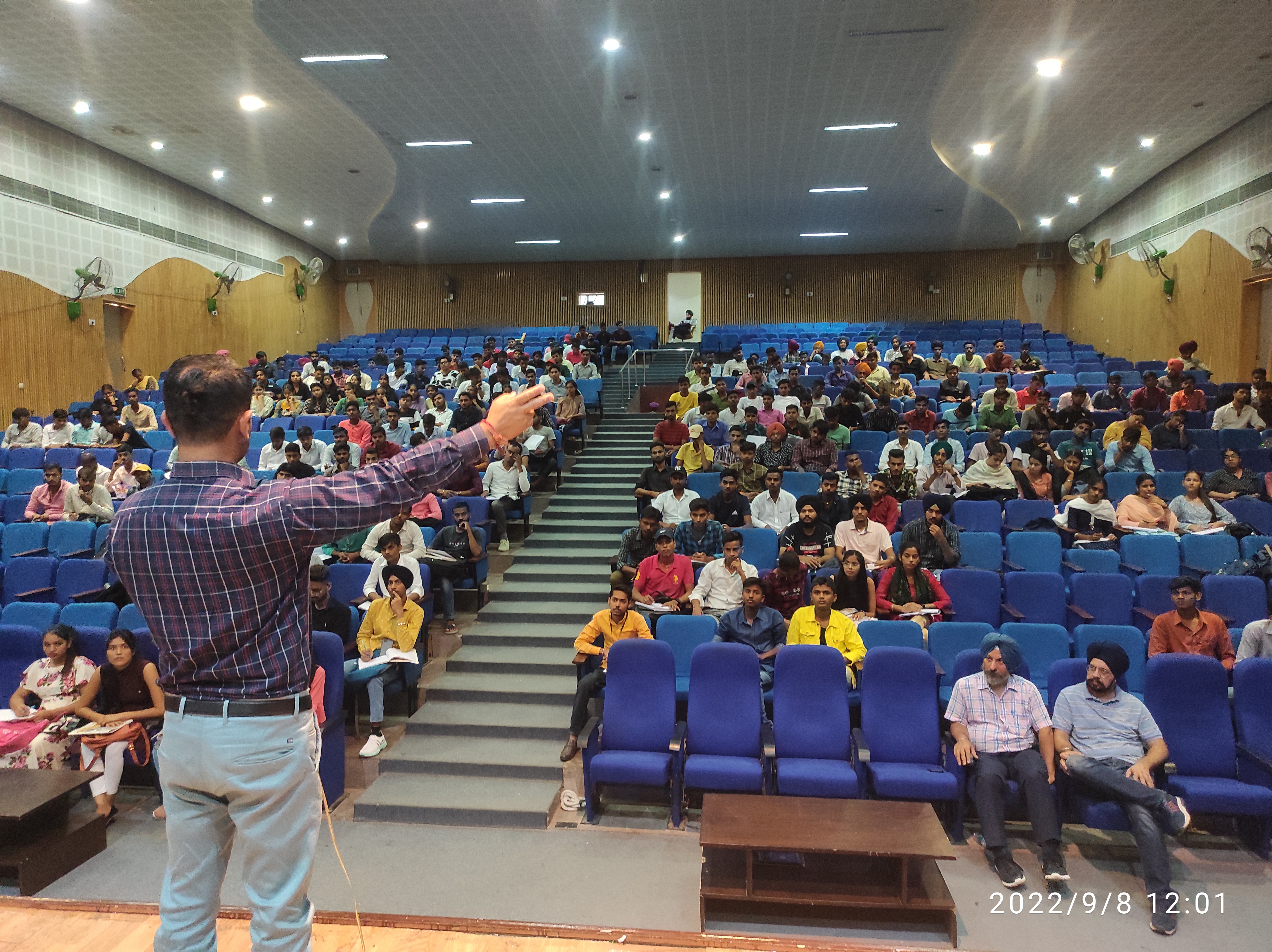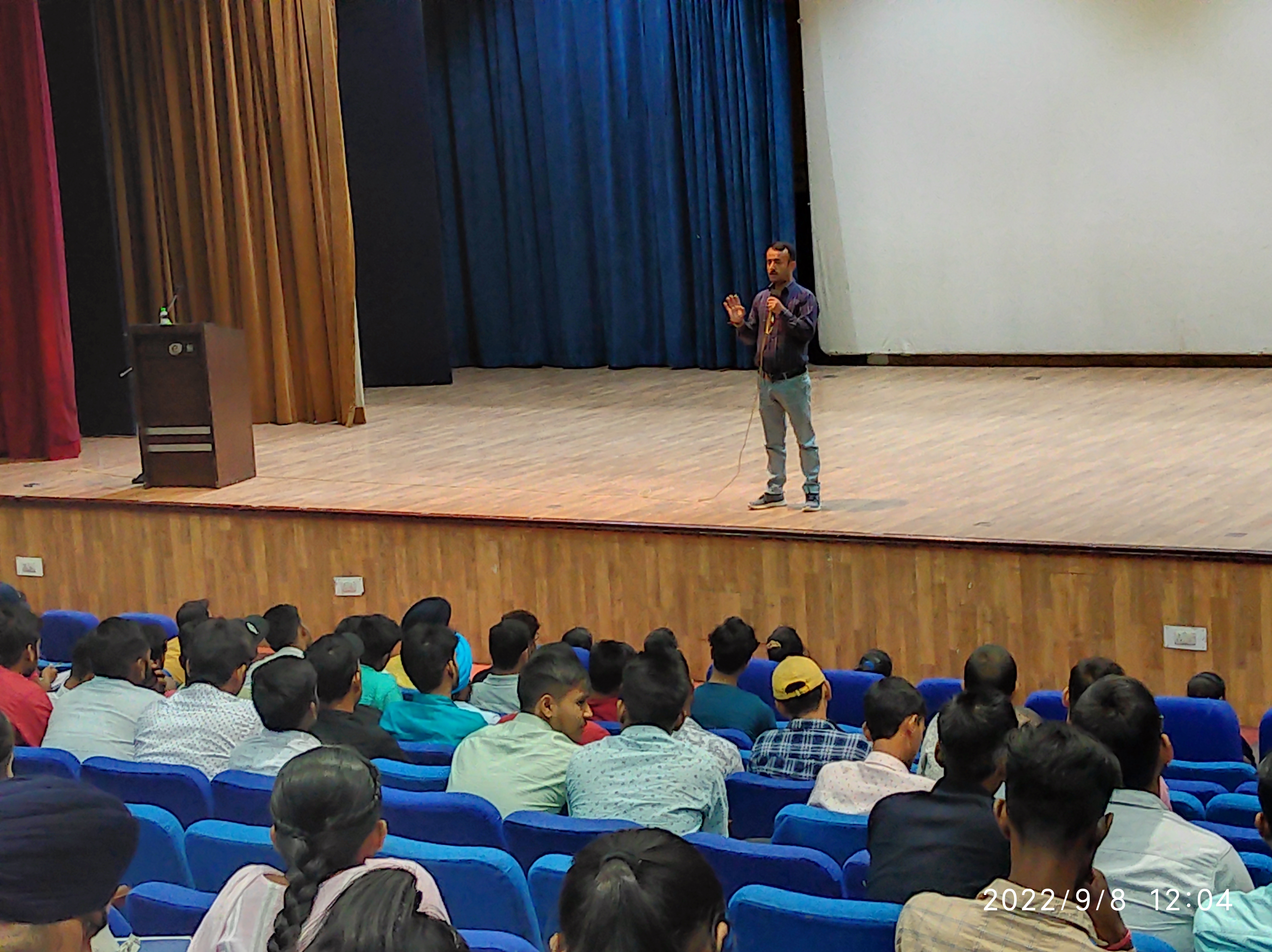 ---
Auditorium session on Inter Cultural Values
An expert session during the induction program being organized by the college for the students joining the new academic session 2022-23 on September 08, 2022 during 10:15 am – 11 am. The broad area of talk was "Inter Cultural Values". The program conducted in the college auditorium with a student strength of approx 400+.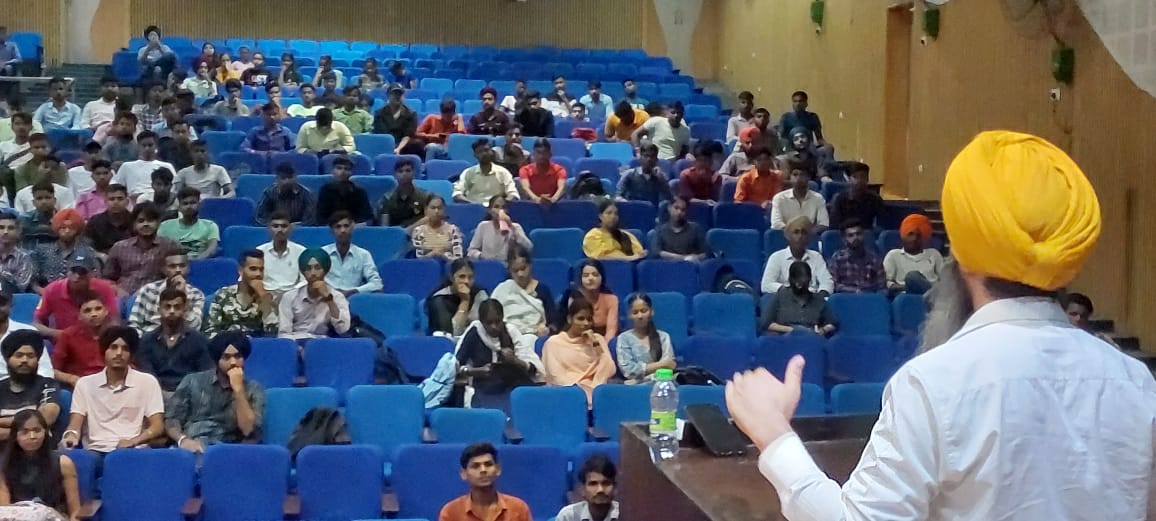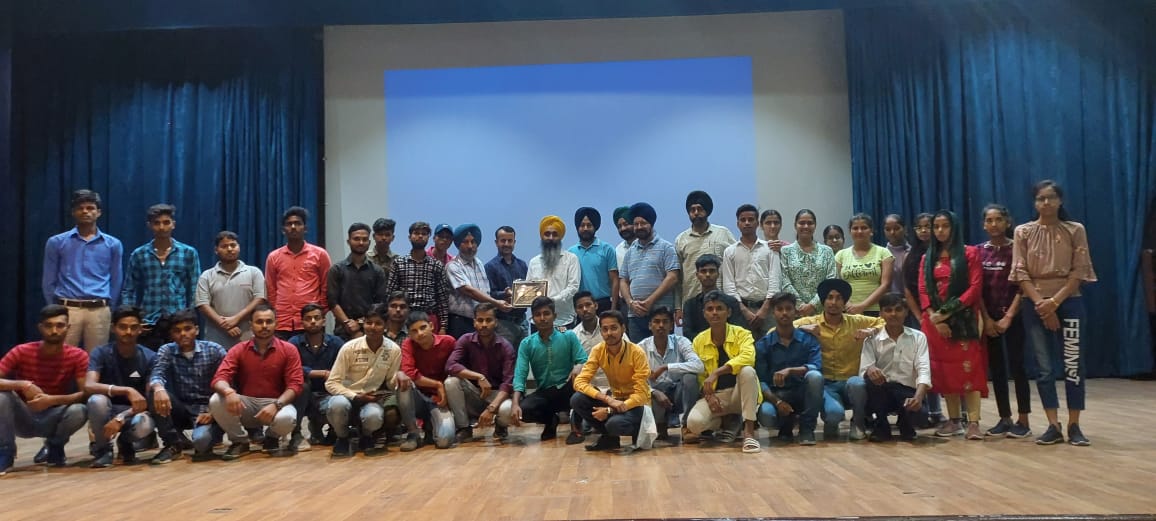 ---
Session on Understanding and Overcoming the Personality Barriers for achieving Professional Excellence
The Training & Placement cell has organized a motivational (Auditorium) session for the students joining the new academic session 2022-23 on September 07, 2022 during 11 am – 1 pm. A well renowned Life Skills Coach and a Knowledge Entrepreneur in Skills Enhancement Ms. 

Manjula

 

Sularia

 enlightened the audience with her vast professional knowledge and skills. The speaker is the CEO of 'The Transformers Value Creators', a Nationally Renowned Life Skills Training Organization. The session was aimed at "Understanding and Overcoming the Personality Barriers for achieving Professional Excellence". The program was conducted successfully in the college auditorium with a student strength of approx 400+. Students actively participated and interacted in the session. Glimpses of the session has been shared below:
Placement record of batch 2023
| | | | | |
| --- | --- | --- | --- | --- |
| Sr No | Name | Branch | University Roll No | Compamy Name |
| 1 | Jatanraj Singh | CSE | 1900677 | SmartData |
| 2 | Sonu | CSE | 1900757 | SmartData |
| 3 | Mansi Kashyap | CSE | 1900694 | SmartData |
| 4 | Ranjeet Singh | CSE | 1900729 | Bebo Technologies |
| 5 | Prince Kumar | CSE | 1900721 | Bebo Technologies |
| 6 | Gunjot Singh | CSE | 1900649 | Bebo Technologies |
| 7 | Hemant Sachdeva | CSE | 1900670 | H&R Block Trivendrum |
| 8 | Akshat Arora | CSE | 1900610 | Netsmartz Infotech |
| 9 | Jatanraaj Singh | CSE | 1900677 | Netsmartz Infotech |
| 10 | Gurpreet Moudgill | CSE | 1900655 | Netsmartz Infotech |
| 11 | Hemant Sachdeva | CSE | 1900670 | Seraphic |
| 12 | Gunjot Singh | CSE | 1900649 | Seraphic |
| 13 | Akshat Arora | CSE | 1900610 | QOS Technology Pvt Ltd |
| 14 | Amrinder Singh | CSE | 1900618 | QOS Technology Pvt Ltd |
| 15 | Anirudh Prasad Sah | CSE | 1900622 | QOS Technology Pvt Ltd |
| 16 | Kumar Agnivesh | ME | 1900882 | Supertech |
| 17 | Raju Kumar | ME | 1900930 | Supertech |
| 18 | Yashpreet Kaur | MBA | | INDIAMART |
| 19 | Kanak | MBA | | INDIAMART |
| 20 | Akhilesh Tiwari | ME | 1900839 | IRM Energy Pvt Ltd |
| 21 | Basant Kumar Rai | ME | 1900857 | IRM Energy Pvt Ltd |
| 22 | Kumar Agnivesh | ME | 1900882 | Ralson India Limited |
| 23 | Prinshu Katyayan | ME | 1900920 | Ralson India Limited |
| 24 | Gursimrandeep Singh | ME | 1900870 | Ralson India Limited |
| 25 | Ankur Kumar | ME | 1900848 | Ralson India Limited |
| 26 | Vishal Kumar | ME | 1900967 | PNR Group Ropar |
| 27 | Prince Kumar | ME | 1900917 | PNR Group Ropar |
| 28 | Prinshu Katyayan | ME | 1900920 | PNR Group Ropar |
| 29 | Rajesh Kumar | ME | 1900929 | PNR Group Ropar |
| 30 |  Ramsunder Kumar | ME | 1900936 | PNR Group Ropar |
| 31 | Monu Kumar | ME | 1900901 | PNR Group Ropar |
| 32 | Sanjeet Kumar Rawat | ME | 1933807 | PNR Group Ropar |
| 33 | Md Khushnood Anwar | ME | 1900880 | SAL Automotive Ltd |
| 34 | Jagjeevan Singh | EE | 1900674 | SAL Automotive Ltd |
| 35 | Jaspal Singh | ME | 1900874 | SAL Automotive Ltd |
| 36 | Bhola Kumar | ME | 1900858 | Core Metal Krafts Limited |
| 37 | Jaspal Singh | ME | 1900874 | Core Metal Krafts Limited |
| 38 | Md Nurain | ME | 1900895 | Core Metal Krafts Limited |
| 39 | Md Khushnood Anwar | ME | 1900880 | Core Metal Krafts Limited |
| 40 | Ankur Kumar | ME | 1900848 | Core Metal Krafts Limited |
| 41 | Akhilesh Tiwari | ME | 1900839 | Core Metal Krafts Limited |
| 42 | Gursimrandeep Singh | ME | 1900870 | Core Metal Krafts Limited |
| 43 | Dhananjay Kumar Gupta | ME | 1900866 | Core Metal Krafts Limited |
| 44 | Md Monajir | ME | 1900893 | Core Metal Krafts Limited |
| 45 | Md Mojahid Ansari | ME | 1900892 | Core Metal Krafts Limited |
| 46 | Raju Kumar | ME | 1900931 | Core Metal Krafts Limited |
| 47 | Abhiraj Anand | CSE | 1900600 | MWIDM, Mohali |
| 48 | Amardeep Singh | CSE | 1900615 | MWIDM, Mohali |
| 49 | Armandeep Singh | CSE | 1900628 | MWIDM, Mohali |
| 50 | Arnav Sharma | CSE | 1900629 | MWIDM, Mohali |
| 51 | Kabir Arora | CSE | 1900680 | MWIDM, Mohali |
| 52 | Manpreet singh | CSE | 1900693 | MWIDM, Mohali |
| 53 | Zahra batool | CSE | 1900777 | MWIDM, Mohali |
| 54 | Akashdeep Singh | CSE | 1900608 | MWIDM, Mohali |
| 55 | Sehajpreet Singh | CSE | 1900744 | MWIDM, Mohali |
| 56 | Komal kapila | BBA | 2001116 | MWIDM, Mohali |
| 57 | Shamsher Singh | BBA | 2001127 | MWIDM, Mohali |
| 58 | Jaskirat Singh | BCA | 2001139 | MWIDM, Mohali |
| 59 | Jaspreet Kaur | BCA | 206606 | MWIDM, Mohali |
Placement record of batch 2022
Placement record of batch 2018-2022
| | | | | |
| --- | --- | --- | --- | --- |
| Sr No | Name | Branch | University Roll No | Compamy Name |
| 1 | Harshdeep Kaur | CSE | 1800850 | Bebo Technologies |
| 2 | Gurkanwal Kaur | CSE | 1800833 | Bebo Technologies |
| 3 | BALJIT SINGH | CSE | 1900986 | Bebo Technologies |
| 4 | Gurkirat Singh | CSE | 1800834 | TCS |
| 5 | Mehakdeep Kaur | CSE | 1800886 | TCS |
| 6 | Harshdeep | CSE | 1800850 | TCS |
| 7 | Palak Kalra | CSE | 1800891 | TCS |
| 8 | Gurkanwal Kaur | CSE | 1800833 | TCS |
| 9 | Nandini Mahajan | CSE | 1800888 | TCS |
| 10 | Bhuvan Aggarwal | CSE | 1800822 | TCS |
| 11 | Navjot Kaur | CSE | 1800889 | TCS |
| 12 | Harnoor Kaur | CSE | 1800846 | Education Culture Pvt Ltd |
| 13 | Bavneet Kaur | CSE | 1800820 | Anviam Solutions Pvt Ltd |
| 14 | Gaganjeet Kaur | CSE | 1800829 | Anviam Solutions Pvt Ltd |
| 15 | Har govind Singh | CSE | 1800841 | OATI |
| 16 | Harshita Sharma | CSE | 2318007 | OATI |
| 17 | Gurkanwal Kaur | CSE | 1800833 | OATI |
| 18 | Ikbir Singh | CSE | 1800855 | Defacto Infotech Pvt Ltd |
| 19 | Charanpreet Singh | CSE | 1800825 | Defacto Infotech Pvt Ltd |
| 20 | Mehakdeep Kaur | CSE | 1800886 | Wipro |
| 21 | Simranjeet Kaur | CSE | 1800919 | Wipro |
| 22 | Taranpreet Kaur | CSE | 1800927 | Wipro |
| 23 | Gurkanwal Kaur | CSE | 1800833 | Wipro |
| 24 | Jaskarandeep Singh | CSE | 1801082 | Wipro |
| 25 | Jaskarandeep Singh | CSE | 1801082 | Pentagon Space Pvt Ltd |
| 26 | Palak Kalra | CSE | 1800891 | Pentagon Space Pvt Ltd |
| 27 | Mehakdeep Kaur | CSE | 1800886 | HCL |
| 28 | Manjinder Kaur | CSE | 1800879 | Trangile Services Pvt Ltd |
| 29 | Jasleen Kaur | CSE | 1800860 | Trangile Services Pvt Ltd |
| 30 | Shikha Koundal | CSE | 1800917 | Trangile Services Pvt Ltd |
| 31 | Gurkirat Singh | CSE | 1800834 | eNest |
| 32 | Mehakdeep Kaur | CSE | 1800886 | Capgemini |
| 33 | Harwinder Singh | CSE | 1800854 | Iron Network |
| 34 | Simranjeet Kaur | CSE | 1800919 | Tech Mahindra |
| 35 | Bavneet Kaur | CSE | 1800820 | Step2gen Mohali |
| 36 | Jyoti Rani | ECE | 1800969 | 3AIP |
| 37 | Nitin Mehra | ECE | 1901017 | 3AIP |
| 38 | Tushar Puri | ECE | 1800973 | Oppo |
| 39 | Harshpreet Kaur | ECE | 1800851 | Zscaler |
| 40 | Jaspreet Kaur | ECE | 1800967 | Pentagon Space Pvt Ltd |
| 41 | Jyoti Rani | ECE | 1800969 | Boang Technology Pvt Ltd |
| 42 | Tushar Puri | ECE | 1800973 | IDS Infotech Mohali |
| 43 | Mandeep Kumar | EE | 1901011 | Pentagon Space Pvt Ltd |
| 44 | Harman jot Saini | EE | 1800843 | Pentagon Space Pvt Ltd |
| 45 | Harshpreet Singh | ME | 1801019 | IRM Energy |
| 46 | Varinder Singh | ME | 1801039 | IRM Energy |
| 47 | Divjot Singh | ME | 1801015 | Reliance Retail |
| 48 | Simranjeet Singh | ME | 1801035 | Reliance Retail |
| 49 | Ranjeet Suri | ME | 1801032 | Reliance Retail |
| 50 | Harshpreet Singh | ME | 1801019 | Hero Eco Tech Pvt Ltd |
| 51 | Varinder Singh | ME | 1801039 | Reliance Retail |
Team T&P
---
Placement record of batch 2017-2021
| | | | | |
| --- | --- | --- | --- | --- |
| Sr No | Name | Branch | University Roll No | Compamy Name |
| 1 | Gagandeep Kaur | CSE | 170280230 | Wipro |
| 2 | Honey | CSE | 170280248 | Dell |
| 3 | Sachin | CSE | 170280288 | TCS |
| 4 | Nancy | CSE | 170280269 | Accenture |
| 5 | Ayushi | CSE | 170280220 | Cognizant |
| 6 | Parmeet Singh | CSE | 170280275 | Amdocs |
| 7 | Davinder Kaur | CSE | 170280229 | Mindtree |
| 8 | Karanpreet Singh | CSE | 170280263 | Cogniter Technologies |
| 9 | Jas Simran Kaur | CSE | 170390036 | Mechlin Technologies |
| 10 | Parneet Kaur | CSE | 99170390041 | Mechlin Technologies |
| 11 | Aditi Salaria | CSE | 99170280127 | Mechlin Technologies |
| 12 | Himanshika Arora | CSE | 170280247 | Mechlin Technologies |
| 13 | Ridham Sharma | CSE | 99170280133 | Mechlin Technologies |
| 14 | Navkashdeep Singh | CSE | 170280270 | Mechlin Technologies |
| 15 | Parmeet Singh | CSE | 170280275 | Mechlin Technologies |
| 16 | Davinder Kaur | CSE | 170280229 | Syntel |
| 17 | Honey | CSE | 170280248 | TCS |
| 18 | Nancy | CSE | 170280269 | Qspiders |
| 19 | Rajpreet Kaur | CSE | 99170280125 | Qspiders |
| 20 | Twinkle | CSE | 170280296 | Qspiders |
| 21 | Ridham Sharma | CSE | 99170280133 | Qspiders |
| 22 | Gagandeep Kaur | CSE | 170280230 | Qspiders |
| 23 | Jas Simran Kaur | CSE | 170390036 | Qspiders |
| 24 | Davinder Kaur | CSE | 170280229 | TCS |
| 25 | Amritpal Singh | CSE | 170280215 | Infosys |
| 26 | Ayushi | CSE | 170280220 | Infosys |
| 27 | Harshleen Kaur | CSE | 170280241 | Infosys |
| 28 | Harshleen Kaur | CSE | 170280241 | Capgemini |
| 29 | Amritpal Singh | CSE | 170280215 | Mphasis |
| 30 | Harmanpreet Singh | CSE | 99170280138 | Mphasis |
| 31 | Urvashi Sharma | CSE | 99170280134 | Mphasis |
| 32 | Gagandeep Kaur | CSE | 170280230 | Mphasis |
| 33 | Tarandeep Singh | CSE | 1800926 | Weber Solutions Mohali |
| 34 | Manveer Singh | CSE | 170280267 | BYJU'S |
| 35 | Davinder Kaur | CSE | 170280229 | HCL |
| 36 | Harshleen Kaur | CSE | 170280241 | Education Culture Pvt Ltd |
| 37 | Sukhdeep Kaur | CSE | 170280292 | Education Culture Pvt Ltd |
| 38 | Ayushi | CSE | 170280220 | Education Culture Pvt Ltd |
| 39 | Davinder Kaur | CSE | 170280229 | DXC India |
| 40 | Nancy | CSE | 170280269 | IBM India Pvt Ltd |
| 41 | Sachin | CSE | 170280288 | Traya Software Pvt Ltd |
| 42 | Karanpreet Singh | CSE | 170280263 | Traya Software Pvt Ltd |
| 43 | Ishapreet Kaur | CSE | 170280250 | Traya Software Pvt Ltd |
| 44 | Akhil Kumar | EE | 170340045 | IRM Energy |
| 45 | Mithilesh Yadav | ME | 170620120 | Spray Engineering |
| 46 | Adil rehman Bhat | ME | 170120169 | Spray Engineering |
| 47 | Harpreet Singh | ME | 99170620113 | Madhav Stelco |
| 48 | Sarban Singh | ME | 99170620104 | Madhav Stelco |
| 49 | Amandeep Singh | ME | 99170620120 | Swan Agro |
| 50 | Sandeep Kumar | ME | 160620465 | Swan Agro |
| 51 | Gurpreet Singh Hunjan | ME | 170620112 | Infosys |
| 52 | Yogpreet Singh | ME | 170620137 | Infosys |
| 53 | Towseef Ahmad Mir | ME | 170390093 | PRIVY Solutions |
| 54 | Heena Begum | Civil | 99170120316 | MGNREGA (Technical Assistant) |
Team T&P
---
Placement record of batch 2016-2020
Sr No
Student Name
Course
Uni. Roll No.
Stream
Company
1
Ms. Damanpreet Kaur
B.Tech
160280763
CSE
Infosys Ltd.
2
Mr. Mishanpreet Singh
B.Tech
160280833
CSE
Infosys Ltd.
3
OATI, Mohali
4
Mechlin Software Technology Pvt. Ltd., Mohali
5
Mr. Harpreet Singh
B.Tech
160280790
CSE
Infosys Ltd.
6
Cogniter Technologies, Chandigarh
7
Ms. Manpreet Kaur
B.Tech
160280829
CSE
Infosys Ltd.
8
Wipro
9
Mr. Harjeevan Singh
B.Tech
160280780
CSE
DigiValet, Indore
10
Cognizant Technology Solutions India Pvt. Ltd.
11
Infosys Ltd.
12
Wipro
13
Mphasis
14
Ms. Sakshi Poddar
B.Tech
160280871
CSE
Infosys Ltd.
15
Education Culture, Ludhiana
16
Mechlin Software Technology Pvt. Ltd., Mohali
17
Ms. Simran Kaur
B.Tech
160280876
CSE
Infosys Ltd.
18
Cogniter Technologies, Chandigarh
19
Mechlin Software Technology Pvt. Ltd., Mohali
20
Mr. Jaswinder Singh
B.Tech
160280813
CSE
Cognizant Technology Solutions India Pvt. Ltd.
21
Mindtree Limited, Bangalore
22
Ms. Neelam Rana
B.Tech
160280838
CSE
Cognizant Technology Solutions India Pvt. Ltd.
23
Mphasis
24
Ms. Navjot Kaur
B.Tech
160280836
CSE
Mphasis
25
Mr. Praveen Kumar
B.Tech
160280851
CSE
Cognizant Technology Solutions India Pvt. Ltd.
26
Mr. Amit Kumar
B.Tech
160280748
CSE
Cognizant Technology Solutions India Pvt. Ltd.
27
Mr. Tarandeep Singh
B.Tech
160280885
CSE
Cognizant Technology Solutions India Pvt. Ltd.
28
Ms. Taranpreet Kaur
B.Tech
160280884
CSE
Education Culture, Ludhiana
29
Ms. Ramneet Kaur
B.Tech
160280859
CSE
Education Culture, Ludhiana
30
Ms. Harsimran Kaur
B.Tech
160280792
CSE
Education Culture, Ludhiana
31
Ms. Rashi Midha
B.Tech
160280862
CSE
Mechlin Software Technology Pvt. Ltd., Mohali
32
Mr. Abdul Khan
B.Tech
160280742
CSE
Cogniter Technologies, Chandigarh
33
Mr. Parwinder Singh
B.Tech
160280845
CSE
Cogniter Technologies, Chandigarh
34
Mr. Prabhnoor Aneja
B.Tech
160280849
CSE
QA Infotech Software Services Ltd.
35
Mr. Gurjot Singh
B.Tech
99160280047
CSE
TCS
36
Mr. Abhishek Yadav
B.Tech
160280746
CSE
OATI, Mohali
37
Mr. Manpreet Singh
B.Tech
160280831
CSE
OATI, Mohali
38
Shivdeep Singh
B.Tech
160280874
CSE
Capgemini India
39
Harkaran Singh Chandok
B.Tech
160620424
CSE
Mind Tree Ltd Bangalore
40
Pankaj Puri
B.Tech
160280842
CSE
Debut Infotech Mohali
41
Wahegurupreet Singh
B.Tech
160280893
CSE
Debut Infotech Mohali
42
Ishwinder Singh
B.Tech
160280798
CSE
Debut Infotech Mohali
43
Navjot Kaur
B.Tech
160280837
CSE
Mind Tree Ltd Bangalore
44
Mr. Rohit Kumar
B.Tech
160280867
CSE
OATI, Mohali
45
Mr. Simranjeet Singh
B.Tech
160280878
CSE
Sociapa,Noida
46
Chetan Ghavri
B.Tech
160620408
ME
B.Tech – Infosys
47
Asgar Hussain Lone
B.Tech
160390222
ECE
B.Tech – NCR Corporation
48
Yawar Ahmad Bhat
B.Tech
160120885
ECE
B.Tech – NCR Corporation
49
Manveer Sharma
B.Tech
160340232
EE
OATI, Mohali
50
Mr. Rohit Kumar
B.Tech
160280867
CSE
OATI, Mohali
51
Mr. Simranjeet Singh
B.Tech
160280878
CSE
Sociapa,Noida
Team T&P
---
| | | | | | |
| --- | --- | --- | --- | --- | --- |
| Sr No | Student Name | Course | Univ Roll No | Name of Stream | Placement Companies |
| 1 | Prabhmeet Kaur | B.Tech | 15111573 | EE | OATI Mohali |
| 2 | Ramandeep Kaur | B.Tech | 15111578 | EE | OATI Mohali |
| 3 | Gurpreet Singh | B.Tech | 99150340268 | EE | Trigur Electronics Sonepat |
| 4 | Ekjot Singh | B.Tech | 99150340266 | EE | Trigur Electronics Sonepat |
| 5 | Khushpreet singh | B.Tech | 99150340281 | EE | Trigur Electronics Sonepat |
| 6 | Atul Pandey | B.Tech | 15111530 | EE | Trigur Electronics Sonepat |
| 7 | Damanjot Singh | B.Tech | 15111535 | EE | Scope Telecom, Chandigarh |
| 8 | Harshil Patel | B.Tech | 15111547 | EE | Scope Telecom, Chandigarh |
| 9 | Navneet Kaur | B.Tech | 15111562 | EE | Scope Telecom, Chandigarh |
| 10 | Ramneek Kaur | B.Tech | 15111579 | EE | Scope Telecom, Chandigarh |
| 11 | Chirag Goyal | B.Tech | 99150340262 | EE | Scope Telecom, Chandigarh |
| 12 | Jaswinder Singh | B.Tech | 99150340278 | EE | Scope Telecom, Chandigarh |
| 13 | Taranpreet Kaur | B.Tech | 99150340299 | EE | Scope Telecom, Chandigarh |
| 14 | Amanjot Singh | B.Tech | 99150620338 | ME | Anglo Eastern Ship Management Pvt Ltd |
| 15 | Deep Singh | B.Tech | 99150620343 | ME | Anglo Eastern Ship Management Pvt Ltd |
| 16 | Guriqbal singh | B.Tech | 15111632 | ME | AK Automatics Rohtak |
| 17 | HARSH KUMAR | B.Tech | 152176 | ME | AK Automatics Rohtak |
| 18 | Satwinder Singh | B.Tech | 99150620371 | ME | Saint Gobain |
| 19 | Prince Chaudhary | B.Tech | 15111699 | ME | AK Automatics Rohtak |
| 20 | Amritpal Singh | B.Tech | 15111613 | ME | AK Automatics Rohtak |
| 21 | Gurwinder singh | B.Tech | 15111645 | ME | AK Automatics Rohtak |
| 22 | Iqbal singh | B.Tech | 1402609 | ME | AK Automatics Rohtak |
| 23 | Abhishek sharma | B.Tech | 15111609 | ME | AK Automatics Rohtak |
| 24 | Maninder singh | B.Tech | 1402641 | ME | AK Automatics Rohtak |
| 25 | Amarpal Singh | B.Tech | 15111485 | ME | AK Automatics Rohtak |
| 26 | Amanpreet Singh Kainth | B.Tech | 15111612 | ME | Prismatic Technologies |
| 27 | Gurwinder Singh | B.Tech | 15111644 | ME | Prismatic Technologies |
| 28 | Rishav Plah | B.Tech | 15112611 | ME | Prismatic Technologies |
| 29 | Gurpinder Singh | B.Tech | 15111636 | ME | Micro Turners |
| 30 | Mankaran Singh | B.Tech | 15111681 | ME | Micro Turners |
| 31 | Ramneek Singh | B.Tech | 15111704 | ME | Micro Turners |
| 32 | Arun Kumar Sharma | B.Tech | 15114017 | ME | Micro Turners |
| 33 | Lovepreet Singh | B.Tech | 15111674 | ME | Micro Turners |
| 34 | Rajvinder Singh | B.Tech | 15111447 | CSE | Cogniter Technologies |
| 35 | Pyara Singh | B.Tech | 15111445 | CSE | Cogniter Technologies |
| 36 | Sahil Dhiman | B.Tech | 15111457 | CSE | Cogniter Technologies |
| 37 | Riya Sharma | B.Tech | 15111454 | CSE | Spice Digital |
| 38 | Jaspreet Kaur | B.Tech | 15111407 | CSE | Spice Digital |
| 39 | Amanpreet Singh | B.Tech | 15111346 | CSE | Spice Digital |
| 40 | Simranjit Singh | B.Tech | 15111606 | CSE | Spice Digital |
| 41 | Himanshu Gupta | B.Tech | 15111394 | CSE | Spice Digital |
| 42 | Devreet Kaur | B.Tech | 15111367 | CSE | Spice Digital |
| 43 | Simarjot Singh | B.Tech | 15111467 | CSE | ZAPBUILD |
| 44 | Riya Sharma | B.Tech | 15111454 | CSE | NCR |
| 45 | Anamveer Kaur Nagra | B.Tech | 15111352 | CSE | A2IT Mohali |
| 46 | Latashi Bector | B.Tech | 15111423 | CSE | Mechlin Technologies |
| 47 | Surinder Kaur | B.Tech | 99150280381 | CSE | A2IT Mohali |
| 48 | Abhishek Kumar | B.Tech | 15111340 | CSE | A2IT Mohali |
| 49 | Inderjit singh blaggan | B.Tech | 15111397 | CSE | Mechlin Technologies |
| 50 | Latashi Bector | B.Tech | 15111423 | CSE | Mechlin Technologies |
| 51 | Diljot Singh | B.Tech | 15111368 | CSE | Universal Infotech, Patiala |
| 52 | Gurleen Kaur | B.Tech | 15111375 | CSE | Universal Infotech, Patiala |
| 53 | Harsimran Kaur | B.Tech | 15111392 | CSE | Universal Infotech, Patiala |
| 54 | Jessica Sidhu | B.Tech | 15111408 | CSE | Universal Infotech, Patiala |
| 55 | Gurpreet Singh | B.Tech | 99150280358 | CSE | Universal Infotech, Patiala |
| 56 | Navjot Kaur | B.Tech | 15111430 | CSE | Universal Infotech, Patiala |
| 57 | Kirti Bhalla | B.Tech | 15111421 | CSE | 9i Technologies, Chandigarh |
| 58 | Pritpal Kaur | B.Tech | 15111443 | CSE | 9i Technologies, Chandigarh |
| 59 | Parminder Kaur | B.Tech | 15111438 | CSE | 9i Technologies, Chandigarh |
| 60 | Ramanpreet Kaur | B.Tech | 15111450 | CSE | 9i Technologies, Chandigarh |
| 61 | Jashanpreet Kaur | B.Tech | 15111402 | CSE | 9i Technologies, Chandigarh |
| 62 | Rajat Pandey | B.Tech | 15111446 | CSE | 9i Technologies, Chandigarh |
| 63 | Karandeep singh | B.Tech | 15111603 | IT | Mechlin Technologies |
| 64 | Gursimran Singh | B.Tech | 15111602151313 | IT | Mechlin Technologies |
| 65 | Tanveer singh bhogal | B.Tech | 15111524 | ECE | Scope Telecom |
| 66 | Sukhsimran Singh Virk | B.Tech | 15111523 | ECE | Scope Telecom |
| 67 | Prabhjot singh | B.Tech | 15111513 | ECE | Scope Telecom |
| 68 | Jatinder singh | B.Tech | 15111502 | ECE | Scope Telecom |
| 69 | Gurjot Singh | B.Tech | 15111493 | ECE | Scope Telecom |
| 70 | Dilbag Singh | B.Tech | 15111491 | ECE | Scope Telecom |
| 71 | Bhawandeep Singh | B.Tech | 15111489 | ECE | ICEI, Chandigarh |
| 72 | Harmanpreet Singh | B.Tech | 15111496 | ECE | ICEI, Chandigarh |
| 73 | Manpreet Kaur Madaan | B.Tech | 15111511 | ECE | ICEI, Chandigarh |
| 74 | Chamandeep Singh | B.Tech | 15111490 | ECE | ICEI, Chandigarh |
| 75 | Amardeep Singh | B.Tech | 15111269 | Civil | TDI Chandigarh |
| 76 | Baldeep Singh | B.Tech | 15111275 | Civil | TDI Chandigarh |
| 77 | Gurbaksh Singh | B.Tech | 15111285 | Civil | TDI Chandigarh |
| 78 | Inderjeet Tandon | B.Tech | 15111293 | Civil | TDI Chandigarh |
| 79 | Jagtarn Singh | B.Tech | 15111296 | Civil | TDI Chandigarh |
| 80 | Chesta | MBA | 170600037 | Marketing | Netsterz |
| 81 | Jagjeet Kaur | MBA | 170600039 | Marketing | Madhav Stelco |
| 82 | Gurpreet Singh | MBA | 170600038 | HR | DCB Bank |
| 83 | Jugraj singh Randhawa | MBA | 170600041 | Marketing | Skylark Immigration Limited |
| Sr No | Student Name | Course | Univ Roll No | Name of Stream | Placement Companies |
| 1 | Sukhpreet Singh | B.Tech | 1402704 | ME | Eicher Tractors |
| 2 | Sarbjeet Gupta | B.Tech | 1402688 | ME | Eicher Tractors |
| 3 | Maninder Singh | B.Tech | 1402641 | ME | Eicher Tractors |
| 4 | Parminder Singh | B.Tech | 1402658 | ME | Eicher Tractors |
| 5 | Himanshu Verma | B.Tech | 1402604 | ME | Eicher Tractors |
| 6 | Vishal Kumar Gupta | B.Tech | 1402714 | ME | Suave Automotive Corporation |
| 7 | Harkirat Singh | B.Tech | 1402594 | ME | Suave Automotive Corporation |
| 8 | Harsh Kumar | B.Tech | 1501006 | ME | Suave Automotive Corporation |
| 9 | Sukhpreet Singh | B.Tech | 1402701 | ME | Anglo Eastern Ship Management |
| 10 | Satvir Singh | B.Tech | 1402689 | ME | Anglo Eastern Ship Management |
| 11 | Vikram Jit Singh | B.Tech | 1402712 | ME | Alpla India Pvt Ltd |
| 12 | Gurvinder Singh | B.Tech | 1402587 | ME | Alpla India Pvt Ltd |
| 13 | Tajinder Singh | B.Tech | 1402706 | ME | Alpla India Pvt Ltd |
| 14 | Amanjot Singh | B.Tech | 1402538 | ME | Alpla India Pvt Ltd |
| 15 | Yogesh | B.Tech | 1402746 | ME | Alpla India Pvt Ltd |
| 16 | Sagar Agnihotri | B.Tech | 1402682 | ME | Alpla India Pvt Ltd |
| 17 | Sarabjeet Gupta | B.Tech | 1402687 | ME | Alpla India Pvt Ltd |
| 18 | Ajit Singh | B.Tech | 1455447 | ME | Alpla India Pvt Ltd |
| 19 | Tejveer Singh | B.Tech | 1402710 | ME | Alpla India Pvt Ltd |
| 20 | Pardeep Singh | B.Tech | 1402656 | ME | Alpla India Pvt Ltd |
| 21 | Parminder Singh | B.Tech | 1402658 | ME | Alpla India Pvt Ltd |
| 22 | Sandeep Singh | B.Tech | 1402686 | ME | Alpla India Pvt Ltd |
| 23 | Prince | B.Tech | 1402665 | ME | Alpla India Pvt Ltd |
| 24 | Rajat Arora | B.Tech | 1402670 | ME | Alpla India Pvt Ltd |
| 25 | Jatinder Pal Singh Chouhan | B.Tech | 1402621 | ME | Alpla India Pvt Ltd |
| 26 | Harman Preet Singh | B.Tech | 1402595 | ME | Alpla India Pvt Ltd |
| 27 | Karan Yadav | B.Tech | 1402627 | ME | Alpla India Pvt Ltd |
| 28 | Vishal Kumar Gupta | B.Tech | 1402714 | ME | Alpla India Pvt Ltd |
| 29 | Gurpyar Singh | B.Tech | 1500996 | ME | Alpla India Pvt Ltd |
| 30 | Harminder Singh | B.Tech | 1402601 | ME | Alpla India Pvt Ltd |
| 31 | Sukhwinder Singh | B.Tech | 1501031 | ME | Alpla India Pvt Ltd |
| 32 | Sameer Hassan | B.Tech | 1402685 | ME | Nestle India Limited, Moga |
| 33 | Dayal Singh | B.Tech | 1302268 | ME | Eicher Tractors |
| 34 | Manmeet Singh | B.Tech | 1302599 | ME | Eicher Tractors |
| 35 | Gagandeep Singh | B.Tech | 1458471 | ME | Eicher Tractors |
| 36 | Ghardeep Singh | B.Tech | 1402567 | ME | Eicher Tractors |
| 37 | Ashish Thakur | B.Tech | 1402549 | ME | Eicher Tractors |
| 38 | Balwinder Singh | B.Tech | 1402556 | ME | Eicher Tractors |
| 39 | Ranjit Singh | B.Tech | 1530246 | ME | Eicher Tractors |
| 40 | Sameer hassan | B.Tech | 1402685 | ME | Eicher Tractors |
| 41 | Gurpyar Singh | B.Tech | 1500996 | ME | Eicher Tractors |
| 42 | Amanjot Singh | B.Tech | 1402538 | ME | Eicher Tractors |
| 43 | Sagar Agnihotri | B.Tech | 1402682 | ME | Eicher Tractors |
| 44 | Gurvinder Singh | B.Tech | 1402586 | ME | INDIAMART |
| 45 | Vishal Gupta | B.Tech | 1402714 | ME | INDIAMART |
| 46 | Rajwinder Singh | B.Tech | 1402672 | ME | INDIAMART |
| 47 | Sukhpreet Singh | B.Tech | 1402704 | ME | INDIAMART |
| 48 | Gurminderpal Singh | B.Tech | 1402578 | ME | Strut Support Systems |
| 49 | Parminder Singh | B.Tech | 1402658 | ME | Strut Support Systems |
| 50 | Harmanpreet Singh | B.Tech | 1402598 | ME | Strut Support Systems |
| 51 | Guriqbal Singh | B.Tech | 1402119 | Civil | DUKE |
| 52 | Baljinder Singh | B.Tech | 1402116 | Civil | JE Irrigation Department |
| 53 | Jaspreet Kaur | B.Tech | 1500851 | Civil | AUTODESK |
| 54 | Yuvraj Verma | B.Tech | 1402113 | Civil | AUTODESK |
| 55 | Mohit Bansal | B.Tech | 1402070 | Civil | AUTODESK |
| 56 | Loveleen Singh | B.Tech | 1402326 | CSE | Athenasoft |
| 57 | Navjot Singh | B.Tech | 1402255 | CSE | Iron Network |
| 58 | Paramjit Singh | B.Tech | 1402263 | CSE | Iron Network |
| 59 | Jagtar Singh | B.Tech | 1402217 | CSE | Iron Network |
| 60 | Rashmeet Singh | B.Tech | 1402276 | CSE | Iron Network |
| 61 | Karamjit Kaur | B.Tech | 1402229 | CSE | Iron Network |
| 62 | Sukhdeep Singh | B.Tech | 1402295 | CSE | Diligent Web Labs |
| | | | | | |
| 63 | Manpreet Kaur | B.Tech | 1402248 | CSE | Diligent Web Labs |
| 64 | Inderpreet Singh | B.Tech | 1402211 | CSE | Diligent Web Labs |
| 65 | Amrinder Singh | B.Tech | 1402152 | CSE | OATI Mohali |
| 66 | Gundeep Singh Lamba | B.Tech | 1402176 | CSE | OATI Mohali |
| 67 | Gurkamal Singh | B.Tech | 1402179 | CSE | OATI Mohali |
| 68 | Sukhdeep Singh | B.Tech | 1402295 | CSE | Mechlin Technologies |
| 69 | Diljot Singh | B.Tech | 1402170 | CSE | Mechlin Technologies |
| 70 | Shamsher Singh | B.Tech | 1402288 | CSE | Mechlin Technologies |
| 71 | Gundeep Singh Lamba | B.Tech | 1402176 | CSE | Mechlin Technologies |
| 72 | Akashdeep Kaur | B.Tech | 1402148 | CSE | 9i Technologies, Chandigarh |
| 73 | Anjali Suman | B.Tech | 1402154 | CSE | 9i Technologies, Chandigarh |
| 74 | Balwinder Kaur | B.Tech | 1402160 | CSE | 9i Technologies, Chandigarh |
| 75 | Gaganpreet Kaur | B.Tech | 1402173 | CSE | 9i Technologies, Chandigarh |
| 76 | Gurpreet Kaur Gahir | B.Tech | 1402183 | CSE | 9i Technologies, Chandigarh |
| 77 | Gurpreet Kaur | B.Tech | 1402182 | CSE | 9i Technologies, Chandigarh |
| 79 | Amandeep Kaur | B.Tech | 1402149 | CSE | EESPL, Mohali |
| 80 | Bhawanpreet Kaur | B.Tech | 1402163 | CSE | EESPL, Mohali |
| 81 | Gurleen Kaur | B.Tech | 1402180 | CSE | EESPL, Mohali |
| 82 | Gursheen Kaur | B.Tech | 1402186 | CSE | EESPL, Mohali |
| 83 | Gurwinder Singh | B.Tech | 1402189 | CSE | EESPL, Mohali |
| 84 | Harpreet Singh | B.Tech | 1402201 | CSE | EESPL, Mohali |
| 85 | Charanpreet Kaur | B.Tech | 1402166 | CSE | Techlive |
| 86 | Harjot Singh | B.Tech | 1402193 | CSE | Techlive |
| 87 | Harpreet Singh | B.Tech | 1402202 | CSE | Techlive |
| 88 | Kiranpreet Kaur | B.Tech | 1402235 | CSE | Techlive |
| 89 | Sonum Pandey | B.Tech | 1402293 | CSE | Techlive |
| 90 | Gagandeep Kaur | B.Tech | 1402172 | CSE | Fortune |
| 91 | Jyoti | B.Tech | 1500882 | CSE | Fortune |
| 92 | Jaspreet Singh | B.Tech | 1402510 | IT | Iron Network |
| 93 | Jashanpreet Kaur | B.Tech | 1402509 | IT | Iron Network |
| 94 | Sheena Saini | B.Tech | 1402516 | IT | 9i Technologies, Chandigarh |
| 95 | Gourav Garg | B.Tech | 1402415 | EE | jindal |
| 96 | Mankaran Singh | B.Tech | 1402387 | EE | Suave Automotive Corporation |
| 97 | Ashish Sharma | B.Tech | 1402347 | EE | JCBL |
| 98 | Jarnail Singh | B.Tech | 11500935 | EE | Alpla India Pvt Ltd |
| 99 | Gagandeep Singh | B.Tech | 1402356 | EE | Alpla India Pvt Ltd |
| 100 | Harkiranjot Singh | B.Tech | 1500930 | EE | Alpla India Pvt Ltd |
| 101 | Prabhjeet Singh | B.Tech | 1500948 | EE | Alpla India Pvt Ltd |
| 102 | Rajat Badiyal | B.Tech | 1402396 | EE | Alpla India Pvt Ltd |
| 103 | Sandeep Kaur | B.Tech | 1500954 | EE | Alpla India Pvt Ltd |
| 104 | Ankita Kaler | B.Tech | 1500914 | EE | Alpla India Pvt Ltd |
| 105 | Ashish Sharma | B.Tech | 1402347 | EE | Alpla India Pvt Ltd |
| 106 | Raman | B.Tech | 1500949 | EE | Alpla India Pvt Ltd |
| 107 | Damandeep Singh | B.Tech | 1500921 | EE | Alpla India Pvt Ltd |
| 108 | Amandeep Singh | B.Tech | 1402339 | EE | Alpla India Pvt Ltd |
| 109 | Kadhar Khan | B.Tech | 1500938 | EE | Alpla India Pvt Ltd |
| 110 | Abhishek | B.Tech | 1402338 | EE | Alpla India Pvt Ltd |
| 111 | Gagandeep Singh | B.Tech | 1402356 | EE | Nestle India Limited, Moga |
| 112 | Damandeep Singh | B.Tech | 1500921 | EE | SVARN Group |
| 113 | Sahil Sharma | B.Tech | 1500953 | EE | SVARN Group |
| 114 | Anmol Kashyap | B.Tech | 1402343 | EE | SVARN Group |
| 115 | Manlal Singh | B.Tech | 1500943 | EE | SVARN Group |
| 116 | Arshdeep Singh | B.Tech | 1402344 | EE | Scope Telecom Chandigarh |
| 117 | Gurpreet Singh | B.Tech | 1402359 | EE | Scope Telecom Chandigarh |
| 118 | Navneet Kaur | B.Tech | 1402391 | EE | Scope Telecom Chandigarh |
| 119 | Arvandeep Singh | B.Tech | 1500917 | EE | Scope Telecom Chandigarh |
| 120 | Gurtej Singh | B.Tech | 1500929 | EE | Scope Telecom Chandigarh |
| 121 | Manjeet Singh | B.Tech | 1402499 | ECE | Blue Chip Technologies Ltd |
| 122 | Karanvir Singh Bansal | B.Tech | 1500964 | ECE | Winwest Telecom Chandigarh |
| 123 | Karandeep Singh | B.Tech | 1402469 | ECE | Winwest Telecom Chandigarh |
| 124 | Ayush | B.Tech | 1402450 | ECE | Infosys |
| 125 | Neha Chaudhary | B.Tech | 1402476 | ECE | Winwest Telecom Chandigarh |
| 126 | Sandeep Singh | B.Tech | 1402487 | ECE | Winwest Telecom Chandigarh |
| 127 | Narinderjot Singh | B.Tech | 1402474 | ECE | Winwest Telecom Chandigarh |
| 128 | Murshid Alam | MBA | 160600755 | MBA | INDIAMART |
| 129 | Manpreet Kaur Toor | MBA | 160600753 | MBA | Skylary Immigration |
| 130 | Satinder Kaur | MBA | 160600762 | MBA | Skylary Immigration |
| 131 | Ramandeep kaur | MBA | 160600757 | MBA | Skylary Immigration |
| 132 | Deeksha Sharma | MBA | 160600747 | Marketing | Prismatic Technologies |
| 133 | Arshveer Singh | MBA | 160600746 | Marketing | Universal Infotech, Patiala |
| 134 | Ravi Kumar | MBA | 160600759 | Marketing | Universal Infotech, Patiala |
| Sr No | Student Name | Course | Univ Roll No | Name of Stream | Placement Companies |
| 1 | Anmol Kaur | B.Tech | 1302116 | CSE | Diligent Web Labs |
| 2 | Chahat Uppal | B.Tech | 1302124 | CSE | techlive |
| 3 | Cheena | B.Tech | 1302126 | CSE | Cavisson Systems,Noida |
| 4 | Harpreet Kaur | B.Tech | 1302151 | CSE | Fortune |
| 5 | Harpreet Singh | B.Tech | 1302153 | CSE | Fortune |
| 6 | Inderpreet Kaur | B.Tech | 1302158 | CSE | Diligent web labs |
| 7 | Jashanjot Kaur | B.Tech | 1302161 | CSE | fortune |
| 8 | Kashish Bhagat | B.Tech | 1302175 | CSE | fortune |
| 9 | Loveleen Kaur | B.Tech | 1302181 | CSE | maintec technologies |
| 10 | Manpreet Kaur | B.Tech | 1302188 | CSE | beckon delve infotech |
| 11 | Mohita Bhatt | B.Tech | 1302192 | CSE | Cavisson Systems,Noida |
| 12 | Navpreet Kaur | B.Tech | 1302196 | CSE | fortune |
| 13 | Paramjeet Kour Raina | B.Tech | 1302198 | CSE | Cavisson Systems,Noida |
| 14 | Rehmatjot Singh | B.Tech | 1302217 | CSE | Athenasoft |
| 15 | Rupinder Singh | B.Tech | 1302219 | CSE | Cavisson Systems,Noida |
| 16 | Rushpinder Kaur | B.Tech | 1302221 | CSE | Diligent web labs |
| 17 | Searat Chahal | B.Tech | 1302227 | CSE | Cavisson Systems,Noida |
| 18 | Shivani | B.Tech | 1302229 | CSE | techlive |
| 19 | Shubam Gupta | B.Tech | 1302231 | CSE | cs soft sol. |
| 20 | Sidharath Sharma | B.Tech | 1302232 | CSE | Cavisson Systems,Noida |
| 21 | Sidharath Sharma | B.Tech | 1302233 | CSE | cs soft sol. |
| 22 | Simranjeet Kaur | B.Tech | 1302237 | CSE | cs soft sol. |
| 23 | Sarita Rani | B.Tech | 1302480 | CSE | cs soft sol. |
| 24 | Vani Sahni | B.Tech | 1302247 | CSE | Spice Digital, Mohali |
| 25 | Vishal Verma | B.Tech | 1302251 | CSE | Cavisson Systems, Noida |
| 26 | Amanjot | B.Tech | 1302112 | CSE | techlive |
| 27 | Bhavleen Kaur | B.Tech | 1302121 | CSE | techlive |
| 28 | Bismen Kaur Sethi | B.Tech | 1302123 | CSE | fortune |
| 29 | Dhawanpreet Kaur | B.Tech | 1302132 | CSE | fortune |
| 30 | Gurjot Singh Chugh | B.Tech | 1302140 | CSE | Cavisson Systems,Noida |
| 31 | Jaikishan Gupta | B.Tech | 1302159 | CSE | Cavisson Systems,Noida |
| 32 | Ramandeep Kaur | B.Tech | 1302210 | CSE | Cavisson Systems,Noida |
| 33 | Raviroop Singh | B.Tech | 1302215 | CSE | maintec technologies |
| 34 | Simranjeet Kaur | B.Tech | 1302236 | CSE | techlive |
| 35 | Jashmanpreet Kaur | B.Tech | 1402321 | CSE | techlive |
| 36 | Manpreet Kaur | B.Tech | 1402328 | CSE | Confluent IT |
| 37 | Nancy | B.Tech | 1402331 | CSE | Confluent IT |
| 38 | Gurinder Kaur | B.Tech | 1402316 | CSE | Confluent IT |
| 39 | Jaspreet Kaur | B.Tech | 1402322 | CSE | Confluent IT |
| 40 | Gurpreet Kaur | B.Tech | 1402317 | CSE | Confluent IT |
| 41 | Navdeep Singh | B.Tech | 1402332 | CSE | Cavisson Systema, Noida |
| 42 | Navjot Singh | B.Tech | 1402333 | CSE | Confluent IT |
| 43 | Puneet Singh | B.Tech | 1302207 | CSE | Cavisson Systems,Noida |
| 44 | Barjot Singh Dhillon | B.Tech | 1302448 | CSE | Cavisson Systems,Noida |
| 45 | Amandeep Kaur | B.Tech | 1402760 | CSE | Cavisson Systems,Noida |
| 46 | Lallan Kumar | B.Tech | 1302179 | CSE | Universal Infotech, Patiala |
| 47 | Neha Goyal | B.Tech | 1302197 | CSE | Universal Infotech, Patiala |
| 48 | Meetali | B.Tech | 1302190 | CSE | Universal Infotech, Patiala |
| 49 | Dhruv Verma | B.Tech | 1302133 | CSE | Universal Infotech, Patiala |
| 50 | Sehajjap Singh | B.Tech | 1302638 | CSE | HPE |
| 51 | Loveleen Singh | B.Tech | 1402326 | CSE | Athenasoft |
| 52 | Gursukhmeni Kaur | B.Tech | 1302379 | IT | Maintec Technologies |
| 53 | Jasmine Kaur | B.Tech | 1302465 | IT | ACS Noida |
| 54 | Pawan Kumar | B.Tech | 1302475 | IT | Athenasoft |
| 55 | Sakshi Gupta | B.Tech | 1302479 | IT | Athenasoft |
| 56 | Amritpal Singh | B.Tech | 1302496 | ME | Merchant Navy- Anglo Eastern Ship Management |
| 57 | Gurinder Singh | B.Tech | 1302519 | ME | Merchant Navy- Anglo Eastern Ship Management |
| 58 | Gurjot Singh ratol | B.Tech | 1302523 | ME | Merchant Navy- Anglo Eastern Ship Management |
| 59 | Mandeep Singh | B.Tech | 1302592 | ME | Arabol Lubricants Noida |
| 60 | Vikram Singh | B.Tech | 1302665 | ME | Arabol Lubricants Noida |
| 61 | Mehakpreet Singh | B.Tech | 1302607 | ME | Arabol Lubricants Noida |
| 62 | Navakashdeep Singh | B.Tech | 1302610 | ME | Salko India Limited |
| 63 | Jappreet Singh | B.Tech | 1302558 | ME | Salko India Limited |
| 64 | Navdeep Singh | B.Tech | 1302408 | ME | Salko India Limited |
| 65 | Sahil Garg | B.Tech | 1302640 | ME | Salko India Limited |
| 66 | Manpreet Singh | B.Tech | 1302602 | ME | Salko India Limited |
| 67 | Abhishek Parmar | B.Tech | 1302253 | ME | Prismatic Technologies |
| 68 | Devinder Sharma | B.Tech | 1302508 | ME | Prismatic Technologies |
| 69 | Gurinder Singh | B.Tech | 1302518 | ME | Prismatic Technologies |
| 70 | Rohit Manhas | B.Tech | 1302636 | ME | Prismatic Technologies |
| 71 | Ravneet Kaur | B.Tech | 1302216 | ME | Skylark Immigration |
| 72 | Barjinder Singh Johal | B.Tech | 1302003 | Civil | CHC Consulting, Mohali |
| 73 | Gagandeep Singh Kamboj | B.Tech | 1302011 | Civil | CHC Consulting, Mohali |
| 74 | Ghanali | B.Tech | 1303012 | Civil | CHC Consulting, Mohali |
| 75 | Harjit Singh | B.Tech | 1302033 | Civil | CHC Consulting, Mohali |
| 76 | Prabhjeet Singh | B.Tech | 1302078 | Civil | CHC Consulting, Mohali |
| 77 | Gurkamal Preet Singh | B.Tech | 1302020 | Civil | CHC Consulting, Mohali |
| 78 | Shamli | B.Tech | 1308422 | Civil | CHC Consulting, Mohali |
| 79 | Guriqbal Singh | B.Tech | 1402119 | Civil | DUKE |
| 80 | Harpreet Singh | B.Tech | 1302038 | Civil | Innovative Systel |
| 81 | Baljinder Singh | B.Tech | 1402116 | Civil | Nexus Design Solutions |
| 82 | Akshay Parmar | B.Tech | 1301990 | Civil | Nexus Design Solutions |
| 83 | Ankush Rana | B.Tech | 1301996 | Civil | Nexus Design Solutions |
| 84 | Puneet Devgan | B.Tech | 1302081 | Civil | Nexus Design Solutions |
| 85 | Gurbaksh Singh | B.Tech | 1302016 | Civil | Exponiq Engineering Services Pvt Ltd |
| 86 | Sahil Soni | B.Tech | 1302088 | Civil | Exponiq Engineering Services Pvt Ltd |
| 87 | Vinay Kumar Badhwar | B.Tech | 1302106 | Civil | Exponiq Engineering Services Pvt Ltd |
| 88 | Lakhwinder Singh | B.Tech | 1452223 | Civil | Exponiq Engineering Services Pvt Ltd |
| 89 | Rajesh Kumar | B.Tech | 1302328 | EE | Jindal |
| 90 | Gourav Garg | B.Tech | 1402415 | EE | jindal |
| 91 | Abhijeet Kumar | B.Tech | 1402408 | EE | Scope Telecom Chandigarh |
| 92 | Manavjot Singh Bedi | B.Tech | 1402425 | EE | Scope Telecom Chandigarh |
| 93 | Harshdep Singh | B.Tech | 1302290 | EE | Scope Telecom Chandigarh |
| 94 | Gagandeep Singh | B.Tech | 1302270 | EE | Winwest Telecom |
| 95 | Jobanpreet Kaur | B.Tech | 1302297 | EE | Winwest Telecom |
| 96 | Agamreet Singh | B.Tech | 1302361 | ECE | Ericsson India Pvt Ltd |
| 97 | Gagandeep Kaur | B.Tech | 1302372 | ECE | Blue Chip Technologies Ltd |
| 98 | Gurleen Kaur | B.Tech | 1302377 | ECE | Ericsson India Pvt Ltd |
| 99 | Harjap Kaur | B.Tech | 1302382 | ECE | World Computer Services Pvt Ltd |
| 100 | Harpreet Kaur | B.Tech | 1302388 | ECE | Blue Chip Technologies Ltd |
| 101 | Ripenpreet Kaur | B.Tech | 1302421 | ECE | World Computer Services Pvt Ltd |
| 102 | Sahleen | B.Tech | 1302423 | ECE | Ericsson India Pvt Ltd |
| 103 | Sidhi Nair | B.Tech | 1302432 | ECE | HPE, World Computer Services Pvt Ltd, Zensar Technologies Pvt Ltd |
| 104 | Manjeet Singh | B.Tech | 1402499 | ECE | Blue Chip Technologies Ltd |
| Sr No | Student Name | Course | Univ Roll No | Name of Stream | Placement Companies |
| 1 | Aastha Khullar | B.Tech | 1236953 | CSE | Data Web Labs |
| 2 | Abinash Singh | B.Tech | 1236955 | CSE | EESPL |
| 3 | Alpinder Singh | B.Tech | 1236956 | CSE | techlive |
| 4 | Amrinder Singh | B.Tech | 1236964 | CSE | Cavisson Systems |
| 5 | Amritpal Singh | B.Tech | 1236965 | CSE | EESPL |
| 6 | Arshdeep Singh | B.Tech | 1236970 | CSE | Athenasoft |
| 7 | Ashmita Thapar | B.Tech | 1236973 | CSE | Cavisson Systems/ TCS |
| 8 | Ayushi Bansal | B.Tech | 1236974 | CSE | iMark Infotech Pvt . Ltd |
| 9 | Gagandeep Kaur | B.Tech | 1236989 | CSE | Project Associate,Centre for IC and SR ,IIT Madras |
| 10 | Gagandeep Singh | B.Tech | 1236990 | CSE | Mobiloitte Technoligies, Delhi |
| 11 | Gurkirat Singh | B.Tech | 1236995 | CSE | Paxcel Technologies |
| 12 | Gurleen Kaur | B.Tech | 1236997 | CSE | Data Web Labs |
| 13 | Harmandeep Kaur | B.Tech | 1237010 | CSE | Data Web Labs |
| 14 | Harpreet Kaur | B.Tech | 1237014 | CSE | cs soft solutions |
| 15 | Japman Kaur | B.Tech | 1237027 | CSE | EESPL |
| 16 | Lovepreet Kaur | B.Tech | 1237054 | CSE | Ys Public Sr Sec School Barnala |
| 17 | Manjot Kaur Josan | B.Tech | 1237061 | CSE | Spice Digital |
| 18 | Manpreet Kaur | B.Tech | 1237062 | CSE | Athenasoft |
| 19 | Manpreet Kaur | B.Tech | 1237063 | CSE | BBSBEC,Fatehgarh Sahib |
| 20 | Navdeep Kaur | B.Tech | 1237071 | CSE | Athena Soft,Mohali |
| 21 | Neetin Goyal | B.Tech | 1237075 | CSE | Virtusa Softwares |
| 22 | Piyush Kapoor | B.Tech | 1237081 | CSE | Iris Analytics & Consulting |
| 23 | Preety Dubey | B.Tech | 1237088 | CSE | Edlive |
| 24 | Satpreet Kaur | B.Tech | 1237107 | CSE | AON Hewitt |
| 25 | Shivani Kumari | B.Tech | 1237113 | CSE | TCS |
| 26 | Sikander Singh | B.Tech | 1237114 | CSE | Data Web Labs |
| 27 | Simranjit Kaur | B.Tech | 1237119 | CSE | EESPL |
| 28 | Simranjit Singh | B.Tech | 1237120 | CSE | Bitwise Global, Pune |
| 29 | Sukhandeep Kaur | B.Tech | 1237121 | CSE | techlive |
| 30 | Sukhpreet Kaur | B.Tech | 1237127 | CSE | iMark Infotech Pvt . Ltd |
| 31 | Tarinder Singh Ghotra | B.Tech | 1237129 | CSE | Iris Analytics & Consulting |
| 32 | Upneet Singh | B.Tech | 1237131 | CSE | AKS Software |
| 33 | Vipul Sharma | B.Tech | 1237133 | CSE | edlive |
| 34 | Vishal Vachaspati | B.Tech | 1237134 | CSE | edlive |
| 35 | Preetinder Singh | B.Tech | 1237449 | CSE | Safaltek |
| 36 | Vishal Mathur | B.Tech | 1237463 | CSE | Safaltek |
| 37 | Lovepreet Kaur | B.Tech | 1237430 | CSE | Athenasoft |
| 38 | Jyoti Rani | B.Tech | 1302710 | CSE | Athenasoft |
| 39 | Khushwinder Singh | B.Tech | 1302711 | CSE | techlive |
| 40 | Navdeep Kaur | B.Tech | 1302718 | CSE | Athenasoft |
| 41 | Navjot Kaur | B.Tech | 1302719 | CSE | edlive |
| 42 | Prabhjot Singh | B.Tech | 1302725 | CSE | Athenasoft |
| 43 | Sonu Garg | B.Tech | 1302733 | CSE | techlive |
| 44 | Sukhbir Kaur | B.Tech | 1302734 | CSE | cs soft solutions |
| 45 | Charanpreet Singh | B.Tech | 1237388 | IT | Spice Digital |
| 46 | Harpinder Singh | B.Tech | 1237519 | ME | Nestle India Ltd |
| 47 | Rahul Kumar | B.Tech | 1237604 | ME | Swagelok- Bangalore Fluid System Components P.L. |
| 48 | Sukhmeet Singh | B.Tech | 1237633 | ME | Blue Star |
| 49 | Sanpreet Singh | B.Tech | 1237620 | ME | Suffescom Solutions P L |
| 50 | Sahib Singh | B.Tech | 1237616 | ME | Suffescom Solutions P L |
| 51 | Prakash Pandey | B.Tech | 1237599 | ME | ECE Elevators Ltd Ghaziabad |
| 52 | Sarvesh Verma | B.Tech | 1237623 | ME | Nestle India Ltd |
| 53 | Mehakmeet Singh | B.Tech | 1237579 | ME | Asahi India Glass |
| 54 | Harjit Singh | B.Tech | 1237514 | ME | JK Tyres Industries Ltd |
| 55 | Rahul Kumar | B.Tech | 1237605 | ME | Advance Valves Noida |
| 56 | Paramjit Singh | B.Tech | 1237591 | ME | Modern Automotive Ltd |
| 57 | Navneet Batish | B.Tech | 1237335 | ME | Nestle India Ltd |
| 58 | Gagandeep Singh | B.Tech | 1237491 | ME | Nestle India Ltd |
| 59 | Hitesh Sharma | B.Tech | 1237525 | ME | Hero Cycles Limited |
| 60 | Jaipal Singh | B.Tech | 1237531 | ME | Nestle India Ltd |
| 61 | Neeraj Bansal | B.Tech | 1237586 | ME | Nestle India Ltd |
| 62 | Pawan Deep Singh Matharoo | B.Tech | 1237595 | ME | Anglo Eastern Ship Management Ltd |
| 63 | Rajjat Kumar | B.Tech | 1237607 | ME | Nestle India Ltd |
| 64 | Saurabh Setia | B.Tech | 1237625 | ME | Nestle India Ltd |
| 65 | Abdul Khan | B.Tech | 1302822 | ME | Nestle India Ltd |
| 66 | Avtar Singh | B.Tech | 1302828 | ME | Nestle India Ltd |
| 67 | Vishali | B.Tech | 1237368 | ECE | Wipro Infotech Delhi |
| 68 | Nikhil Sharda | B.Tech | 1302788 | ECE | AON Hewitt |
| 69 | Harsimranpreet Kaur | B.Tech | 1302774 | ECE | Huawei |
| 70 | Mandeep Kaur | B.Tech | 1237321 | ECE | British Telecom, Gurgaon |
| 71 | Sunny Bhardwaj | B.Tech | 1237363 | ECE | Wipro Infotech Delhi |
| 72 | Navdeep Kaur | B.Tech | 1237333 | ECE | British Telecom, Gurgaon |
| 73 | Shaganroop Kaur | B.Tech | 1237355 | ECE | ACCELOR Microsystems |
| 74 | Pooja Rani Chhabra | B.Tech | 1237339 | ECE | EESPL |
| 75 | Navneeet Kaur | B.Tech | 1237336 | ECE | CMS |
| 76 | Simardeep Singh | B.Tech | 1237359 | ECE | Forever Limited |
| 77 | Jagtar Singh | B.Tech | 1355159 | ECE | Forever Limited |
| 78 | Jaspreet Kaur | B.Tech | 1237192 | EE | Mahindra Susten |
| 79 | Parwinder Singh | B.Tech | 1237221 | EE | A2IT, Auscam Academy of Information Tech Pvt Ltd |
| 80 | Inderpreet Kaur | B.Tech | 1237184 | EE | Mahinda Susten |
| 81 | Parneet Kaur | B.Tech | 1236922 | CIVIL | SBP Group |
| 82 | Gurjot Singh | B.Tech | 1236863 | CIVIL | Micromount Ludhiana |
| 83 | Rajvir Singh | B.Tech | 1236925 | CIVIL | Micromount Ludhiana |
| 84 | Haqiqat Singh | B.Tech | 1236871 | CIVIL | Patiala Construction Company |
| 85 | Jasminderpal Singh | B.Tech | 1236891 | CIVIL | Synergies India Pvt Ltd |
| 86 | Pappu Yadav | B.Tech | 1236920 | CIVIL | JJ Builders |
| 87 | Karan Bains | B.Tech | 1302684 | CIVIL | SNS Corporation |
| 88 | Kawalpreet Singh Bedi | B.Tech | 1236897 | CIVIL | GN Construction Company |
| 89 | Arjan Singh | B.Tech | 1236840 | CIVIL | Bharti Builders Jalandhar |
| 90 | Bikramjeet Singh | B.Tech | 1236846 | CIVIL | JJ Builders |
| 91 | Gurjot Singh | B.Tech | 1236863 | CIVIL | Engineer in Macromount Inc Ludhiana |
| 92 | Jasminderpal Singh | B.Tech | 1236891 | CIVIL | Mainland Engineering Corporation |
| 93 | Jaswant Singh | B.Tech | 1236894 | CIVIL | Navy |
| 94 | Kawalpreet Singh Bedi | B.Tech | 1236897 | CIVIL | GND Construction (30000PM) |
| 95 | Kuldeep Singh | B.Tech | 1236899 | CIVIL | Balwant Singh Contractor Job |
| 96 | Kuljinderpal Singh | B.Tech | 1236900 | CIVIL | Site Engineer |
| 97 | Kulvir Singh | B.Tech | 1236901 | CIVIL | Fastway |
| 98 | Lovepreet Singh | B.Tech | 1236904 | CIVIL | Skill development Centre |
| 99 | Manvir Singh | B.Tech | 1236915 | CIVIL | Rakesh Kumar Contractor |
| 100 | Paramvir Rana | B.Tech | 1236921 | CIVIL | Rakesh Kumar Contractor |
| 101 | Rajvir Singh | B.Tech | 1236925 | CIVIL | Micromount PMC, Dharamshala |
| 102 | Satveer Singh | B.Tech | 1236940 | CIVIL | GND Construction (23000PM) |
| 103 | Sukhmani Singh | B.Tech | 1236947 | CIVIL | GND Construction (18500PM) |
| 104 | Jaswinder Singh | B.Tech | 1298171 | CIVIL | Punjab Water Resources & Devlp Corporation, Chd |
| 105 | Gurpreet Singh | B.Tech | 1302674 | CIVIL | Strut support System |
| 106 | Karan Bains | B.Tech | 1302684 | CIVIL | BBMB, Nangal |
| 107 | Harpinder Singh | B.Tech | 1353419 | CIVIL | RP Builders |
| 108 | Narinder Singh | MBA | 1402870 | MBA | Indusind Bank |
| 109 | Gurinderpal Kaur | MBA | 1402862 | MBA | Walmart, IDS Infotech, SEBI |
| 110 | Satnam Kaur | MBA | 1402873 | MBA | Walmart, Teamleases(SEBI) |
| 111 | Malwinder Singh | MBA | 1402866 | MBA | IDS Infotech,  Teamleases(SEBI) |
| 112 | Mehak Walia | MBA | 1402869 | MBA | Just Dial |
| 113 | Arunpreet Veen | M.Tech | 1402799 | M.T E-Sec | Frisklancer |
| Sr No | Student Name | Course | Univ Roll No | Name of Stream | Placement Companies |
| 1 |  Jashanpreet Kaur | B.Tech | 1136362 | CSE | CS Soft Solutions |
| 2 | Jaspreet Kaur | B.Tech | 1136364 | CSE | techlive |
| 3 |  Osheendeep Kaur | B.Tech | 1136377 | CSE | Fortune |
| 4 |  Pardeep Kaur | B.Tech | 1136378 | CSE | HDFC Bank |
| 5 |  Rupinder Kaur | B.Tech | 1136387 | CSE | Fortune |
| 6 |  Rupinder Kaur | B.Tech | 1136388 | CSE | techlive |
| 7 |  Sarpreet Kaur Gill | B.Tech | 1136389 | CSE | Data Web Labs |
| 8 | Amandeep Kaur | B.Tech | 1136397 | CSE | Data Web Labs |
| 9 | Amandeep Kaur | B.Tech | 1136398 | CSE | Zensar Technologies Limited |
| 10 | Amrit Veer Kaur | B.Tech | 1136400 | CSE | Fortune |
| 11 | Amritpal Singh | B.Tech | 1136404 | CSE | EESPL |
| 12 | Anna Raheja | B.Tech | 1136406 | CSE | Practo Technologies |
| 13 | Binwant Kaur Anand | B.Tech | 1136414 | CSE | techlive |
| 14 | Daljeet Kaur | B.Tech | 1136416 | CSE | EESPL |
| 15 | Davinder Kaur | B.Tech | 1136418 | CSE | Nagarro |
| 16 | Divya Manro | B.Tech | 1136420 | CSE | CS Soft Solutions |
| 17 | Harpreet Singh Saggu | B.Tech | 1136442 | CSE | Seasia Infotech |
| 18 | Inderbir Singh | B.Tech | 1136443 | CSE | Data Web Labs |
| 19 | Jagdeep Kaur | B.Tech | 1136445 | CSE | edlive |
| 20 | Jashan Jot | B.Tech | 1136447 | CSE | edlive |
| 21 | Jaskiran Kaur | B.Tech | 1136449 | CSE | PACS Academy |
| 22 | Jasmeet Singh Punia | B.Tech | 1136452 | CSE | CS Soft Solutions |
| 23 | Jaswinder Kaur | B.Tech | 1136457 | CSE | Data Web Labs |
| 24 | Karanjot Kaur | B.Tech | 1136460 | CSE | Fortune |
| 25 | Kulwinder Kaur | B.Tech | 1136462 | CSE | Fortune |
| 26 | Meenu | B.Tech | 1136474 | CSE | edlive |
| 27 | Nadarjot Singh | B.Tech | 1136475 | CSE | Spice Digital Ltd |
| 28 | Navjot Kaur Pannu | B.Tech | 1136476 | CSE | Fortune |
| 29 | Navkiran Kaur | B.Tech | 1136477 | CSE | CS Soft Solutions |
| 30 | Parbhdeep Kaur | B.Tech | 1136484 | CSE | Fortune |
| 31 | Parneet Kaur | B.Tech | 1136485 | CSE | L&T Infotech |
| 32 | Prabhjot Kaur | B.Tech | 1136489 | CSE | Fortune |
| 33 | Puneeta Goyal | B.Tech | 1136491 | CSE | Software Engineer,Spice Digital Limited |
| 34 | Sandeep Kaur | B.Tech | 1136502 | CSE | CS Soft Solutions |
| 35 | Sarvotam Pal Singh | B.Tech | 1136506 | CSE | L&T Infotech |
| 36 | Shivam Modi | B.Tech | 1136507 | CSE | Zensar Technologies Limited |
| 37 | Sukh Sehaj Singh | B.Tech | 1136509 | CSE | edlive |
| 38 | Sukhpreet Kaur | B.Tech | 1136514 | CSE | Frisklancer |
| 39 | Taranjeet Kaur | B.Tech | 1136517 | CSE | EESPL |
| 40 | Vinkle Chauhan | B.Tech | 1136519 | CSE | Frisklancer |
| 41 | Sukhdeep Kaur | B.Tech | 1136603 | CSE | Frisklancer |
| 42 | Ravneet Kaur | B.Tech | 1136674 | CSE | Frisklancer |
| 43 | Kanwarbir Singh | B.Tech | 1136743 | CSE | Frisklancer |
| 44 | Lovepreet Kaur | B.Tech | 1136744 | CSE | Frisklancer |
| 45 | Anubhav Jaggi | B.Tech | 1136758 | CSE | Microland |
| 46 | Mandeep Sharma | B.Tech | 1136864 | CSE | L&T Infotech |
| 47 | Ishpreet Kaur | B.Tech | 1281062 | CSE | EESPL |
| 48 | Jagvir Kaur | B.Tech | 1281063 | CSE | Fortune |
| 49 | Lovepreet Kaur | B.Tech | 1281073 | CSE | Programmer,Frisklancer Services Limited |
| 50 | Prabhjeet Kaur | B.Tech | 1281087 | CSE | Asst Prof, Swami Vivekananad Group of Institutes |
| 51 | Ramandeep Kaur | B.Tech | 1281093 | CSE | PHP Developer,Gilard Application Programmers |
| 52 | Taranjeet Singh | B.Tech | 1281125 | EE | Frisklancer |
| 53 |  Amandeep Singh | B.Tech | 1136520 | EE | (PLC) ADI Soft tech Pvt Ltd |
| 54 |  Sahibdeep Singh Kapoor | B.Tech | 1136530 | EE | JE-PSPCL |
| 55 | Dipesh Manchanda | B.Tech | 1136538 | EE | Muskan Power Limited, Ludhiana |
| 56 | Rahul Pandey | B.Tech | 1136563 | EE | Kisco Casting India Ltd, Mandi gobindgarh |
| 57 | Amit Kumar | B.Tech | 1281106 | EE | (PLC) ADI Soft tech Pvt Ltd |
| 58 | Loveneet Singh | B.Tech | 1281120 | EE | Electrical Engineer- Kalgidhar Trust Baru Sahib |
| 59 | Manpreet Singh | B.Tech | 1281121 | EE | AP- Baba Farid Group of Institutes |
| 60 | Taranjeet Singh | B.Tech | 1281125 | EE | Project engineer, Maruti Suzuki ADI Soft Tech Pvt Ltd |
| 61 |  Baljinder Singh | B.Tech | 1136831 | ME | Highway Industries Ludhiana |
| 62 |  Bhawandeep Sharma | B.Tech | 1136834 | ME | Ghattoura Agro Industries |
| 63 |  Jupinder Singh | B.Tech | 1136857 | ME | Daikin Airconditioning India Pvt Ltd-GET |
| 64 |  Karnail Singh | B.Tech | 1136858 | ME | Cheema Boilers Ltd, Mohali, Chandigarh |
| 65 |  Manpreet Singh | B.Tech | 1136865 | ME | Khanna Paper Mills-GET |
| 66 |  Opinder Singh | B.Tech | 1136869 | ME | Highway Industries Ludhiana |
| 67 |  Raminderjit Singh Dhillon | B.Tech | 1136874 | ME | Khanna Paper Mills-GET |
| 68 | Gaganpreet Singh | B.Tech | 1136901 | ME | Daikin Airconditioning India Pvt Ltd-GET |
| 69 | Gurinder singh | B.Tech | 1136904 | ME | Khanna Paper Mills-GET |
| 70 | Harkanwal Singh Pannu | B.Tech | 1136919 | ME | Merchant Navy-Shipping Corporation of India |
| 71 | Harman Saini | B.Tech | 1136921 | ME | Daikin Airconditioning India Pvt Ltd-GET |
| 72 | Harmeet Singh | B.Tech | 1136925 | ME | Khanna Paper Mills-GET |
| 73 | Harpreet Singh | B.Tech | 1136932 | ME | Daikin Airconditioning India Pvt Ltd-GET |
| 74 | Jaspreet Singh Gill | B.Tech | 1136944 | ME | Khanna Paper Mills-GET |
| 75 | Lakhvir Singh | B.Tech | 1136958 | ME | Highway Industries Ludhiana |
| 76 | Rahul Dhiman | B.Tech | 1136983 | ME | Arific Business Solution Chd |
| 77 | Sandeep Singh | B.Tech | 1136995 | ME | Cheema Boilers Ltd, Mohali, Chandigarh |
| 78 | Varinder Singh | B.Tech | 1137004 | ME | Ghattoura Agro Industries |
| 79 | Harmeet Singh Bhullar | B.Tech | 1281207 | ME | Highway Industries Ludhiana |
| 80 | Lovejeet Singh | B.Tech | 1281221 | ME | Daikin Airconditioning India Pvt Ltd-GET |
| 81 | Rishab Malhotra | B.Tech | 1281234 | ME | Paytm Ldh (Key Account Manager) |
| 82 | Manjot Kaur Hansra | B.Tech | 1136371 | ECE | Programmer,Frisklancer Services Limited |
| 83 | Amandeep Singh | B.Tech | 1136294 | Civil | Preoratn |
| 84 | Anmoldeep Singh | B.Tech | 1136296 | Civil | Frisklancer |
| 85 | Gurvinder Singh | B.Tech | 1136307 | Civil | Project Manager Highway & Infra (Centrodostroy India Pvt Ltd |
| 86 | Jaspreet Singh | B.Tech | 1136322 | Civil | Job- PSPCL |
| 87 | Rahul | B.Tech | 1281040 | Civil | Irrigation Dept |
| 88 | Rajinder Singh | B.Tech | 1281041 | Civil | JE Irrigation |
| 89 | Rohit | B.Tech | 1281042 | Civil | PUDA Job |
| 90 | Rohit Bector | B.Tech | 1281043 | Civil | JE Panchayati Raj |
| 91 | Yadvinder Singh | B.Tech | 1281046 | Civil | Clerk Food & Supply Punjab |
| 92 | Jaspreet Kaur | B.Tech | 1136455 | ECE | Genpact System Engineer |
| 93 |  Gurvinder Singh | B.Tech | 1136584 | ECE | Capgemini India Pvt Ltd- SW Engg |
| 94 | Himanshu Sharma | B.Tech | 1136642 | ECE | EESPL |
| 95 | Jashanpreet Kaur | B.Tech | 1136645 | ECE | Aryan College, Banur |
| 96 | Kulwinder Singh | B.Tech | 1136649 | ECE | Frisklancer |
| 97 | Prabhjot Kaur | B.Tech | 1136671 | ECE | EESPL |
| 98 | Rasmeet Kaur Sodhi | B.Tech | 1136672 | ECE | PO SBI, Sirhind |
| 99 | Richa Arora | B.Tech | 1136676 | ECE | Fujitsu Consulting, Noida (Soft Devlp) |
| 100 | Rosel Kharay | B.Tech | 1136677 | ECE | EESPL |
| 101 | Sukhdeep Singh Brar | B.Tech | 1136685 | ECE | PACE Institute, Patiala |
| 102 | Gurnoor Singh Kochhar | B.Tech | 1281132 | ECE | IFB  / Advance Technology |
| 103 | Jaspreet Singh | B.Tech | 1281141 | ECE | Infosys Chandigarh |
| 104 | Loveneet Garg | B.Tech | 1281143 | ECE | Maruti Suzuki India Ltd, Manesar |
| 105 | Navdeep Kaur | B.Tech | 1281145 | ECE | IFA Pvt Ltd, Mohali |