Why should you pursue Engineering at BBSBEC ?
Posted By bbsbec3 on April 21, 2019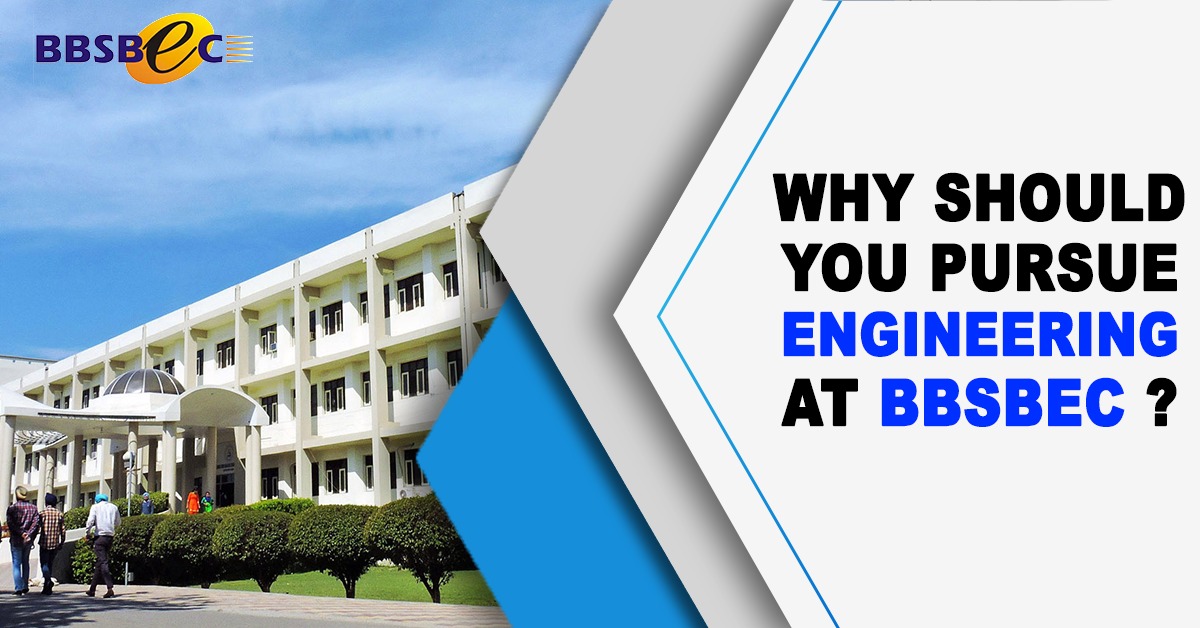 "Nobody ever wrote down a plan to be broke, fat, lazy, or stupid. Those things are what happen when you don't have a plan"
– LARRY WINGET
Making plans is what we all usually do, but thriving hard to fulfil them is where we lack. Engineers are incredible! A career in engineering is interesting and fun. It involves a lifetime of continuous learning to adapt to changes in society and the natural world. It often involves working in multi-disciplinary, multi-cultural, multi-site teams. It is a very worthwhile profession, and the results, when you succeed, can be incredibly satisfying.
Albert Einstein said, "Scientists investigate that what already is; Engineers create that which has never been". Engineering is one of the professions which includes a wide range of activities and Baba Banda Singh Bahadur engineering college is one such platform which gives you 'n' number of opportunities.
BBSBEC is one of the top colleges of Punjab and they are providing the best quality of education in many courses. We have faculty of engineering offering B.Tech and M.Tech courses along with Management department offering MBA courses. This beautifully designed,
constructed and landscaped campus has state-of-the-art infrastructure and equipment and a highly educated, experienced and matured faculty to groom the students to grow into world-class professionals who would be ready to meet the global needs of the corporate sector befittingly. Special attention is given to overall development of the students to become ethically and socially responsible citizens of India contributing significantly for India's march towards becoming a good leader.
OPPORTUNITIES AT BBSBEC
No doubt, we are living in 21 st century, where education is the basic necessity of life, but despite this, the fact that moral, ethical and cultural values are also what a man should possess before entering in this world of competition. This college has various such programs which help in the overall development of a students personality. Starting from the 'Personality development classes' to Motivational Auditorium session, our college has a lot more to groom a students personality and motivates the inner self to come and show up.
We organise a huge number of workshops in different departments to impart practical knowledge and to give experience to our students. Participation in inter and intra college competitions is what that adds to the boosted and confident soul of a student. We make sure each student should be given enough and equal chance to show their talents.
Sports is also appreciated here with great pomp and has resulted in confirmation of what they say, "A Healthy mind resides in a Healthy body".
Also with the best quality of education, we are also leaders in students placement. Placement drives have been arranged for our students who want to pursue in the industries and we help our students to hit the highest salary packages as well. We have tied up with a large number of National and Multinational companies to provide jobs to the students before the completion of course.
This college has a clear perspective of becoming an academically as well as culturally strong institution responsive to the requirements of the corporate world in the 21 st century. BBSBEC has developed its unique identity and attracts students not only from Punjab but from other states in the country as well. We believe in the overall development of students personality so as to prepare them for global competition.
Many people are educated in Engineering skills and use them in their jobs, but few are actually called "Engineers". The vital importance of engineering is thus sometimes difficult to see. Being an engineer is like making something which can change the world and if given the right platform like BBSBEC wonders can be done!
Curated By-
Jas Simran Kaur
CONTACT US:
To have more details, please visit our official website: www.bbsbec.edu.in
Apply now to be the part of BBSBECian Family We welcome you all with our open and warm hearts.