FDP on Moodle Learning Management System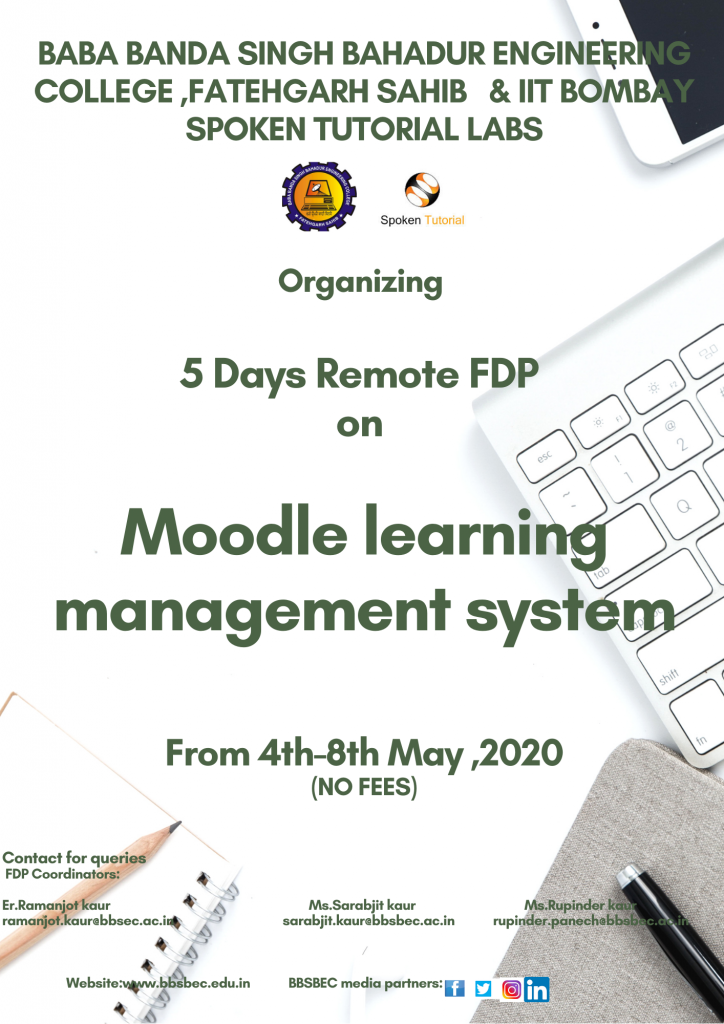 Department of Computer Science & Engg. (BBSBEC) in association with *IIT Bombay Spoken Tutorial*  is organizing:
5 Days – Remote Faculty Development Program
on

"Moodle Learning Management system"

Date:   4 – 8 MAY, 2020

Faculty & Staff members (from any stream) of BBSBEC are invited to attend this FDP remotely (from your own place).

There is no registration fees for attending this remote FDP.

IIT Bombay Spoken Tutorial is an initiative of MHRD & National Mission on Education through ICT of Ministry of HRD, Govt.of India.

Participants will receive e-certificates from IIT BOMBAY  

Registration through Google Form ends:  2 May, 2020 (Saturday)

"Enrollment on – First come first serve basis"
After completing Registration of FDP (on Google Form),  Course Material to be accessed from the following link:
ABOUT MOODLE:   

Moodle is a free and open-source learning management system (LMS) written in PHP and distributed under the GNU General Public License. With customizable management features, it is used to create private websites with online courses for educators and trainers to achieve learning goals. Moodle is used for blended learning, distance education, flipped classroom and other e-learning projects in schools, universities, workplaces and other sectors. With MoodleCloud, online teaching platform can be built and designed easily.
For any Query,
following BBSBEC –  CSE FDP Coordinators may be contacted: