The Institution of Engineers(India) Student's Chapter
52nd Engineers' Day – 2019
Baba Banda Singh Bahadur Engg. College Fatehgarh Sahib along with The Institution of Engineers (India), Punjab & Chandigarh State Centre celebrated 52nd "Engineers Day – 2019" on 15thSeptember, 2019 in the premises of the Institution of Engineers (India), Chandigarh. The theme of this year's "52ndEngineers' Day – 2019" was "Engineering for change". Students of Civil Engineering  along with faculty & staff attended the event. Er. Davinder Kumar Sharma chairman BBMB, was the chief guest and Dr.Gulab Singh Narwal Member (Irrigation) BBMB, was the guest of honour. Everyone was enlightened by their words. Er. P.S.Bhogalgave the introduction on the theme.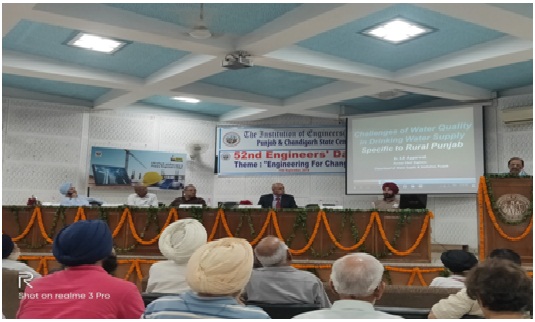 Inaguration function of Institute of Engineer's, Student Chapter 28 March 2018 (Number: 140407/BBSB/CV)

An expert lecture cum inauguration session of Institute of Engineer's, Student Chapter, was organized by Civil Engineering Department on 28th March 2018. The event started at 11.am. with the welcome speech by teacher coordinator of chapter, Prof. Manpreet Kaur. She welcomed the expert of the day Mr. Akshay Raj, Director CIZ (Compete India Zone), on behalf of department. Dr Anshu Tomar HOD CED BBSBEC Fatehgarh Sahib  presented a bouquet to the guest. Mr. Akshay Raj has done his masters in Earthquake Engineering from IIT Roorkee. In his lecture he guided the students about the future prospects of a Civil Engineer in detail and usefulness of appearing for GATE Exam, which will definitely help the passing out batch to choose the carrier option. Further he guided the students to keep motivated and stable in life during phases of struggle. Team CIZ also conducted the quiz about basic structural design fundamentals and concepts for design purposes and distributed the solved copy of basic concepts of structural elements to the winners. It was a wonderful session during which the students interacted with the expert to clear their doubts in civil engineering. Speaker highlighted the importance of going for higher studies and also using GATE Exam as a platform for choosing different carriers in both private as well as govt. sector. Overall the expert lecture was a beneficial for the passing out as well as the 2nd & 3rd year students. On this occasion formal inauguration of IEI was done under which further students will be enrolled every year to provide a good platform to put their ideas in a better way. The session was concluded with vote of thanks under which guest of honour was presented to the guest on behalf of entire Baba Banda Singh Bahadur Engineering College and the students proceeded to their individual classes for rest of the day.